SECURITY
TrueCrypt - Free Open-Source On-The-Fly Disk Encryption Software for Windows 7/Vista/XP, Mac OS X and Linux. Free Portable Encryption Software - Picofactory. Description It is a small and extremely fast encryption utility that uses Blowfish encryption algorithm in CBC mode.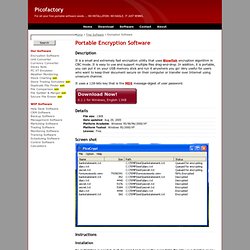 It is easy to use and support multiple files drag-and-drop. In addition, it is portable, you can put it on your USB memory stick and run it anywhere you go! Very useful for users who want to keep their document secure on their computer or transfer over Internet using unsecure channel. PGP Products. Access protected data in the cloud securely on your iOS Devices File Share Encryption for iOS allows users who have uploaded encrypted files to Dropbox, to view their encrypted information directly on their iOS mobile devices.
Incorporating a simple, user-friendly interface through Symantec File Viewer, users can access their synched information anywhere they have a network connection. Users can store up to 1G of encrypted files in their cache, allowing access to encrypted information when no network connection is available and with the peace of mind that their data is always protected.
Already licensed? The GNU Privacy Guard - GnuPG.org. AbsoluteShield File Shredder. Why do you need a File Shredder?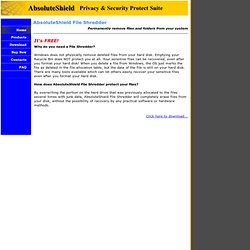 Windows does not physically remove deleted files from your hard disk. Emptying your Recycle Bin does NOT protect you at all. Your sensitive files can be recovered, even after you format your hard disk! Blowfish Advanced CS. Blowfish Advanced CS (Personal Edition) This Encryption Software for Windows is Freeware.
It runs at least on Win 95/98/NT/2000/XP/2003 Server. The Sourcecode is available. But: How secure is Open Source Software (OSS)? What does this program do? Axantum Software AB | AxCrypt | File Encryption Software. AxCrypt is the leading open source file encryption software for Windows.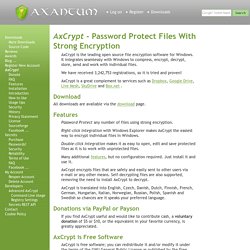 It integrates seamlessly with Windows to compress, encrypt, decrypt, store, send and work with individual files. We have received 3,034,578 registrations, so it is tried and proven! AxCrypt is a great complement to services such as Dropbox, Google Drive, Live Mesh, SkyDrive and Box.net . Download.
---