NOKIA
Calcium - Fast free calculator for S60. Calcium is a fast, easy to use calculator for your S60 phone Getting tired of the S60 calculator?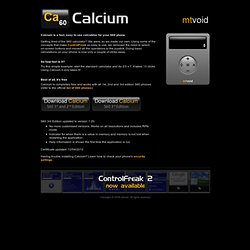 We were, so we made our own. Using some of the concepts that make ControlFreak so easy to use, we removed the need to select on-screen buttons and moved all the operations to the joystick. PhotoJotter. Version 2.0 PhotoJotter is a database program for photographers.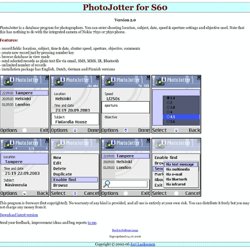 You can enter shooting location, subject, date, speed & aperture settings and objective used. Note that this has nothing to do with the integrated camera of Nokia 7650 or 3650 phone. Features: Free Nokia Themes, Free Ringtones, Free Apps.
---