ANTIVIRUS GRATIS ON LINE
Antivirus et Anti-Spyware | Protection gratuite contre les virus | AVG France
Enjoy ESET's Easy-to-Use FREE Scanner Detect and remove malware on your PC with a powerful and user-friendly tool that uses the same ThreatSense® scanning technology and signatures as ESET Smart Security and ESET NOD32 Antivirus — just by using your web browser. Key Features – Run scans in your favorite browser, such as Internet Explorer, Safari, Firefox, Chrome, Opera, Netscape, and more. – Select specific files or folders for quick scanning of suspicious objects.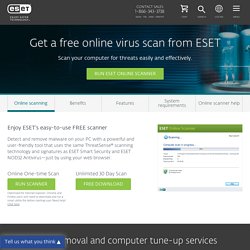 Need more than that? Secure even your financial transactions Your money really deserves a solid level of protection against theft.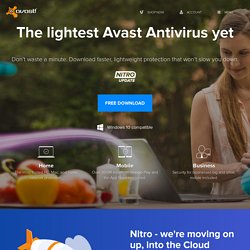 SCANNER PER VIRUS E MALWARE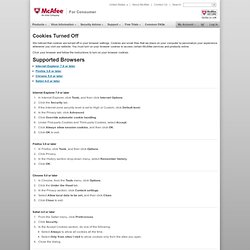 Antivirus Software and Internet Security For Your PC | McAfee
We noticed that cookies are turned off in your browser settings. Cookies are small files that we place on your computer to personalize your experience whenever you visit our website. You must turn on your browser cookies to access certain McAfee services and products online.
Jotti's malware scan è un servizio gratuito online che permette di analizzare file sospetti con molti programmi antivirus. I programmi usati sono nelle rispettive versioni per Linux; possono quindi essere riscontrate differenze rispetto alle versioni per Windows. La dimensione massima è di 25MB per file. Notare che nessuna soluzione offre il 100% di protezione, neppure quando usa parecchi motori antivirus (come, ad esempio, questo servizio). I file caricati qui sono condivisi con i produttori di anti-virus, allo scopo di migliorare l'accuratezza delle rilevazioni.
s malware scan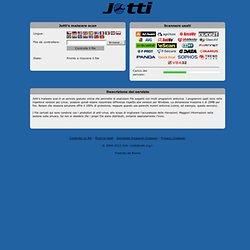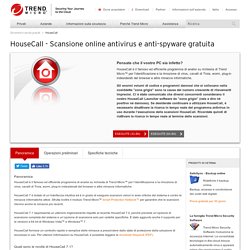 Panoramica HouseCall è il famoso ed efficiente programma di analisi su richiesta di Trend Micro™ per l'identificazione e la rimozione di virus, cavalli di Troia, worm, plug-in indesiderati del browser e altre minacce informatiche. HouseCall 7 è dotato di un'interfaccia intuitiva ed è in grado di eseguire scansioni veloci in aree critiche del sistema e contro le minacce informatiche attive. Sfrutta inoltre il modulo Trend Micro™ Smart Protection Network™ per garantire che le scansioni rilevino anche le minacce più recenti. HouseCall 7.1 rappresenta un ulteriore miglioramento rispetto al recente HouseCall 7.0, perché prevede un'opzione di scansione completa del sistema e un'opzione di scansione solo per cartelle specifiche. È stato aggiunto anche il supporto per le versioni a 64 bit di Windows Vista™ e Windows™ 7.
Trend Micro HouseCall - Scansione online antivirus e anti-spyware gratuita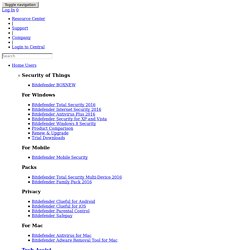 Bitdefender QuickScan uses in-the-cloud scanning technology to detect active malware on your system, in under a minute. Because it focuses on active e-threats, the product uses just a fraction of the system resources needed by a regular virus scan and requires no time-consuming virus signature updates, as the detection process is performed by remote Bitdefender servers. Key Features Fast. Bitdefender Quickscan runs in the cloud as a lightning-fast virus and spyware detection tool, providing an alternative to the time consuming traditional virus scanners. Light.