Presidents
Johnson was born in poverty in Raleigh, North Carolina. Apprenticed as a tailor, he worked in several frontier towns before settling in Greeneville, Tennessee. He served as alderman and mayor there before being elected to the Tennessee House of Representatives in 1835.
Andrew Johnson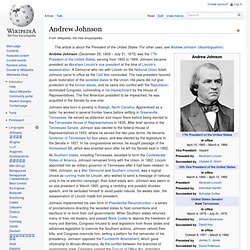 Buchanan statue in National Portrait Gallery James Buchanan, Jr. (/bjuːˈkænən/; April 23, 1791 – June 1, 1868) was the 15th President of the United States (1857–1861), serving immediately prior to the American Civil War. He is the only president from Pennsylvania and the only president who remained a lifelong bachelor.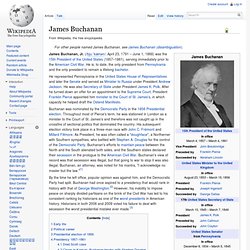 James Buchanan
Ulysses S. Grant
Ulysses S. Grant (born Hiram Ulysses Grant; April 27, 1822 – July 23, 1885) was the 18th president of the United States (1869–1877) following his success as military commander in the American Civil War. Under Grant, the Union Army defeated the Confederate military; the war, and secession, ended with the surrender of Robert E. Lee's army at Appomattox Court House. As president, Grant led the Radical Republicans in their effort to eliminate vestiges of Confederate nationalism and slavery, protect African American citizenship, and defeat the Ku Klux Klan.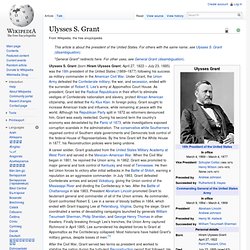 As we all prepare to spend a long weekend enjoying Presidential Savings on mattresses and used Toyotas, we could take time to thank some of the presidents who passed bills that protect some of the freedoms your enjoy daily. Or we could spend the day celebrating the presidents who are decidedly more Action Movie Heroes than diplomats. Anyway, guess which kind of president this website decided to focus on?
The 5 Most Badass Presidents of All-Time | Cracked.com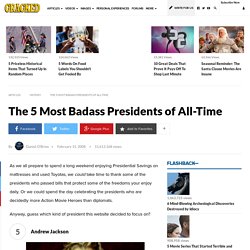 Warren G. Harding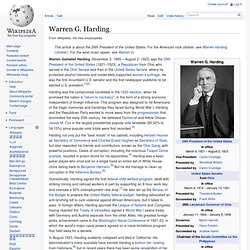 Harding was the compromise candidate in the 1920 election, when he promised the nation a return to "normalcy", in the form of a strong economy, independent of foreign influence. This program was designed to rid Americans of the tragic memories and hardships faced during World War I. Harding and the Republican Party had desired to move away from progressivism that dominated the early 20th century. He defeated Democrat and fellow Ohioan James M. Cox in the largest presidential popular vote landslide (60.32% to 34.15%) since popular vote totals were first recorded.[3] Harding not only put the "best minds" on his cabinet including Herbert Hoover as Secretary of Commerce and Charles Evans Hughes as Secretary of State, but also rewarded his friends and contributors, known as the Ohio Gang, with powerful positions.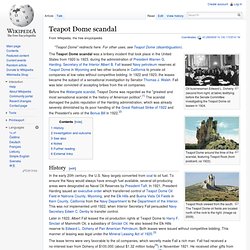 Coordinates: Oil businessman Edward L. Doheny (second from right, at table) testifying before the Senate Committee investigating the Teapot Dome oil leases in 1924 Teapot Dome around the time of the scandal
Teapot Dome Scandal