Mormon
By the 4 verse, the BoM is proven to be a fraud.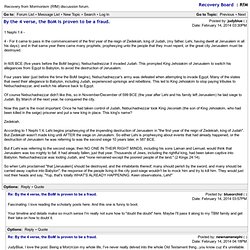 Posted by: judyblue ( )Date: February 14, 2014 03:30PM 1 Nephi 1:4 - 4 - For it came to pass in the commencement of the first year of the reign of Zedekiah, king of Judah, (my father, Lehi, having dwelt at Jerusalem in all his days); and in that same year there came many prophets, prophesying unto the people that they must repent, or the great city Jerusalem must be destroyed. In 605 BCE (five years before the BoM begins), Nebuchadnezzar II invaded Judah. This prompted King Jehoiakim of Jerusalem to switch his allegiances from Egypt to Babylon, to avoid the destruction of Jerusalem. Four years later (just before the time the BoM begins), Nebuchadnezzar's army was defeated when attempting to invade Egypt.
MormonThink.com: An objective look at Mormons / Mormonism / the LDS Church
My Second Anointing Experience on January 21, 2008 - color version - tom-phillips-second-anointing.pdf
debunking myths about heavenly mother - the latest "we didn't teach that" moment for TSCC
Assessing Cult Control
Good pick! Been listening to Mormon Expressions, and they've had on a couple guests who are hesitant to call the LDS church a cult, but acknowledge that reading about aspects of cults caused them to see a few upsetting similarities. by brotherbubblegum Oct 6
Convert priorities--social connection first, critical thinking about doctrine (and history) second . . .
Posted by: robertb ( )Date: June 09, 2012 01:00PM if at all.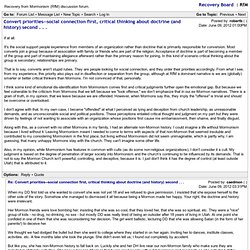 Special Report: Mormonism besieged by the modern age
Gender Roles and Sexism in the LDS Church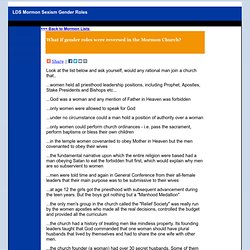 Look at the list below and ask yourself, would any rational man join a church that.. ...women held all priesthood leadership positions, including Prophet, Apostles, Stake Presidents and Bishops etc... ...God was a woman and any mention of Father in Heaven was forbidden
I was a member of the LDS church for almost 30 years.
Ex-Mormon Scholars Testify - Simon Southerton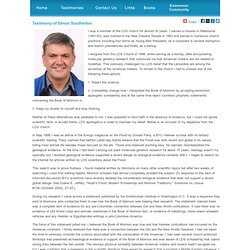 SALT LAKE CITY — The Salt Lake Chamber says $5 billion have gone into the revitalization of downtown Salt Lake City, and a major part of that is soon to open in the new City Creek Center. The project is nearly finished, and H. David Burton — presiding bishop of The Church of Jesus Christ of Latter-day Saints, and the man who has overseen City Creek from the beginning — anticipates the center's Mar. 22 grand opening will be just that: grand.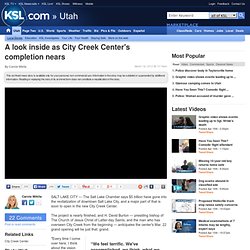 A look inside as City Creek Center's completion nears
Finally, my wife listens and opens up. Thank you leaders and members!
Letter from Delbert Stapley to George Romney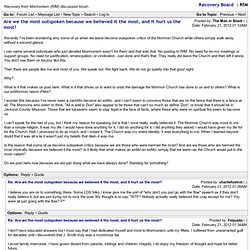 Are we the most outspoken because we believed it the most, and it hurt us the most?
Posted by: mre ( )Date: February 21, 2012 01:51AM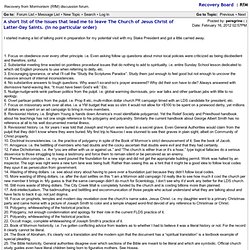 A short list of the issues that lead me to leave The Church of Jesus Christ of Latter-Day Saints. (in no particular order)
Problems with the content of the book of mormon - a few examples of things off the top of my head:
Article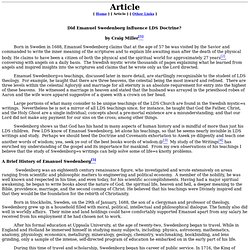 Did Emanuel Swedenborg Influence LDS Doctrine?
To my ex-Bishop,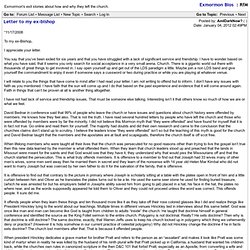 Letter to my ex-bishop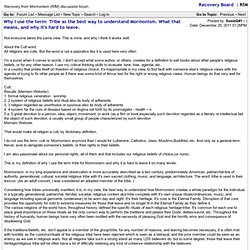 Re: Why I use the term: Tribe as the best way to understand Mormonism. What that means, and why it's hard to leave.
Not everyone takes the same view.
Stevebloor's Blog | The Barefoot Bearded Cornish Pisky
Posted by: SusieQ#1 ( )Date: December 18, 2011 02:36PM
Re: am i the only one?
(This photo is also in Personal Writings of Joseph Smith, Compiled by Dean Jesse, Deseret Book, 2002, p.17)
Joseph Smith's Handwritten 1832 First Vision
Race Problems--As They Affect The Church by Mark E. Petersen 1954
Posted by: Edwood ( )Date: October 16, 2011 10:47PM So when does a religious organization step over the line from being simply a church to a cult?
Is cult too strong a word to describe Mormonism?
LDS Church: Name Removal Instructions from the Mormon Church
Warning: If you live with people who are members (parents, a spouse, siblings or a roommate), they will almost certainly be told about your resignation. If family members live in the same ward or stake that you do, they will probably hear about your resignation. Getting Started
Information about how Mormonism affects people psychologically.
Draft of my letter to the Bishop, haven't sent it yet. Feedback please.
Seriously?
MormonThink.com: An objective look at Mormons / Mormonism / the LDS Church
Why I Left
Stages of Cult Recovery Applied to Mormonism
The Lost Book of Abraham (full video, low quality)
Liberal Stake
Church Finance – Part IV « Truth Hurts
Matrix and Inception Exmormons « NoCoolName Blog