Art
50 Beautiful and Effective Package Designs. When choosing one product over another, the design of the packaging probably influences your decision far more than you realize.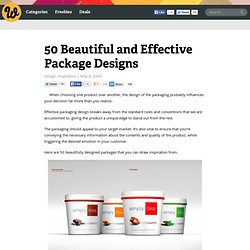 Effective packaging design breaks away from the standard rules and conventions that we are accustomed to, giving the product a unique edge to stand out from the rest. The packaging should appeal to your target market. It's also vital to ensure that you're conveying the necessary information about the contents and quality of the product, while triggering the desired emotion in your customer. Here are 50 beautifully designed packages that you can draw inspiration from. ColorTheory_Screen_White.jpg (JPEG Image, 1224x792 pixels) - Scaled (78%) 20 awesome and creative portrait ideas » Blog of Francesco Mugnai. 20 awesome and creative portrait ideas on November 11, 2011 Huge self portrait mosaic made of thousands of plastic bottle caps.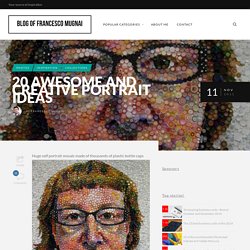 Summer Art Fairs 2009: Should I Stay Or Should I Go? Yesterday I received a friendly email from a fellow artist inquiring about a summer art fair that I exhibited at in 2008.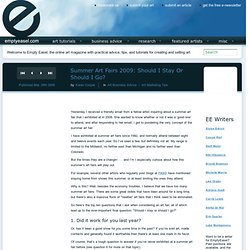 She wanted to know whether or not it was a 'good one' to attend, and after responding to her email, I got to pondering the very concept of the summer art fair. I have exhibited at summer art fairs since 1992, and normally attend between eight and twelve events each year. So I've seen a few, but definitely not all. How To Steal Like An Artist by Austin Kleon. Nick Gentry | Social art from the obsolete. 59 Amazing Street Art collected by @themadray | Designerscouch #thecritiquenetwork.
Art. Rafal Olbinski. Instant artist statement: Arty Bollocks Generator. Drowning Beautiful | Suitcase-chair.jpg (JPEG Image, 684x513 pixels)
---