DIY
Get flash to fully experience Pearltrees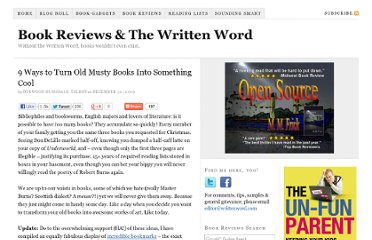 Bibliophiles and bookworms, English majors and lovers of literature: is it possible to have too many books? They accumulate so quickly! Every member of your family getting you the same three books you requested for Christmas. Seeing Don DeLillo marked half-off, knowing you dumped a half-caff latte on your copy of Underworld , and – even though only the first three pages are illegible – justifying its purchase. 15+ years of required reading lists stored in boxes in your basement, even though you can bet your bippy you will never willingly read the poetry of Robert Burns again. We are up to our waists in books, some of which we hate (really Master Burns?
How To Crochet A Basic Oval Shape and Oval Rag Rug Pattern You could also make this rug with worsted weight yarn, using two strands held together throughout. However, a rug made with fabric strips will be sturdier and will last longer than one made from yarn. For instruction on preparing fabric strips to crochet with, see: http://crochet.about.com/library/weekly/aa092599.htm
It's 9:00pm. We have officially finished up our valentines-for-classmates preparations. Things I'm thinking: 1) I have a lot of children. 2) Those children have a lot of classmates. It turns out Colorado has bigger class sizes than New York. It took me until Valentines Day to notice.
I've seen these all over the place lately and have been anxious to try them. You may have tons of crayons around your house–but if not, luckily, they are about 25 cents in all the Back To School sales now-a-days. Peel off the paper. When I was a kid–this was easy. But crayons today are a bit more snooty.
Allow me to introduce the lovely and talented Ching Ya , a dear friend and social media geek with a delighthful creative streak. Today, she'll teach us how to fold our own paper stars in this photo tutorial . Enjoy! ~ Jen The Cute Little Stars Twinkle twinkle little stars How colorful and adorable you are…
These instructions will teach you to fold two variations of Folded Paper Stars, German Stars or German Star Ornaments, Swedish Stars, Moravian Stars, Froebel's Stars, Christmas Stars, Origami Stars, Star Ornaments , Ribbon Stars, etc. If you have any questions, please contact me . Please note: These steps are modified for the web.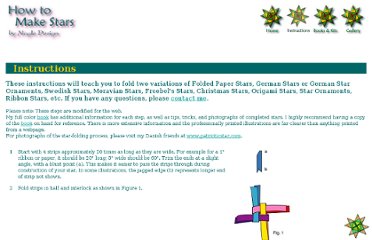 It's Halloween - the time of year for having fun dressing up and eating way too much candy. But one of the problems I see every year with Halloween is that everyone wears the same costume. So, I decided to have a little fun today and show off a bunch of really unique costumes - that people made themselves! No storebought naughty nurses here... just a whole bunch of costumes that made me smile. Special thanks to Elad from Coolest-Homemade-Costumes.com for letting me use all those photos! If you made a cool costume this year, go enter his contest.