Istanbul info
Www.tacvakfi.org.tr. TAÇ-Türkiye Anıt Turizm Değerlerini Koruma Vakfı ve TRANS ORIENT Turizm, Erguvan Zamanı Boğaziçi Yalıları ve Boğaziçi Balıkları gezisinden sonra İstanbulluluk bilincine katkıda bulunmaya devam ederek İstanbul kentinde Bizans'ın az bilinen mimari eserlerini tanıtmaya yönelik bir tur düzenledi.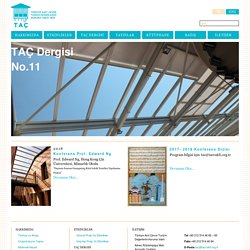 TAÇ Vakfı ve Trans Orient Turizm, Doç.Dr. Engin AKYÜREK yönetiminde 25 Mayıs Pazar günü İstanbul'da Bizans mimarisinin az bilinen yapılarını keşfetmeye çıktı. APPLICATION OF THE URBAN REALMS MODEL TO ISTANBUL. Dr.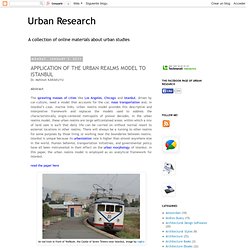 Mehmet KARAKUYU Abstract The sprawling masses of cities like Los Angeles, Chicago and Istanbul, driven by car-culture, need a model that accounts for the car, mass transportation and, in Istanbul's case, marine links. Urban realms model provides this descriptive and interpretive framework and replaces the models used to address the characteristically single-centered metropolis of prewar decades. Global Studio | Global Studio Istanbul, 2005. Towards Equality, Social Inclusion and Human Development in Design Education: The Case of Global Studio 2005-2008 - Architectural Theory Review. Urban Renewal Processes in the Historic City « (Law No. 5366-based) Urban Renewal Processes in the Historic City June 27 & 28, 2009 Organizers: Aslı Kıyak Ingin, Tolga Islam, Julia Strutz.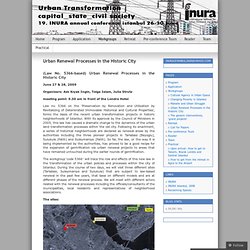 PLAYTHECITY. Changing Poverty in Istanbul « Changing poverty in Istanbul: Scenes from the center and periphery June 27 & 28, 2009 Organizers: Alev Erkilet, Çağlar Aykaç, Didem Danış meeting point: Saturday, 9.30 am in front of the Londra Hotel Poverty has different manifestations in urban spaces.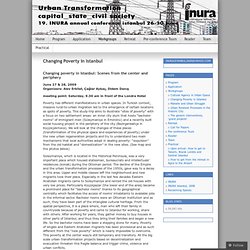 Open City Istanbul | ArkitecTRUE | a platform for all design enthusiasts to find a variety of items from architecture to interior design to urban planning. Network of Issues for Urban Transformation. Istanbul's Gated Communities By Pelin Tan | Bidoun Magazine. Images by Solmaz Shahbazi According to urban myths surrounding Istanbul's Tophane district, murder and robbery are common, walking around in the evening is unsafe, and prostitution and drugs are rampant.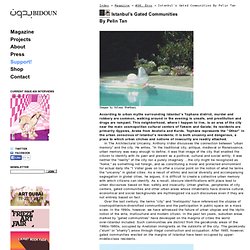 This neighborhood, where I happen to live, is an area of the city near the main cosmopolitan cultural centers of Taksim and Galata; its residents are primarily Gypsies, Arabs from Anatolia and Kurds. Urban poor linger in shadow of Istanbul nouveau - Hurriyet Daily News and Economic Review. TURKEY tr-national ISTANBUL - Hürriyet Daily News | 10/1/2010 12:00:00 AM | LUIS GALLO Istanbul's growing profile as a 'global city' has enriched many, but threatens to further impoverish and disenfranchise some of its most vulnerable residents.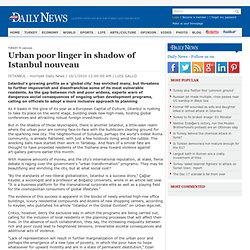 If you don't like Turkey don't open....(long topic) ...this topic because I don't want any forumer to destroy this topic.It took me more than 40 minutes to find all the photos and information about the projects!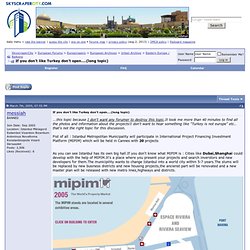 I don't want to hear something like "Turkey is not europe" etc.. that's not the right topic for this discussion. Fist of all : Istanbul Metropolitan Municipality will participate in International Project Financing Investment Platform (MIPIM) which will be held in Cannes with 20 projects. Accession of Turkey to the European Union. Turkey's application to accede to the European Economic Community, a predecessor of the European Union (EU), was made on 14 April 1987.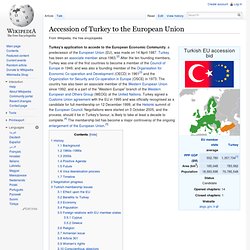 Turkey has been an associate member since 1963.[2] After the ten founding members, Turkey was one of the first countries to become a member of the Council of Europe in 1949, and was also a founding member of the Organisation for Economic Co-operation and Development (OECD) in 1961[3] and the Organization for Security and Co-operation in Europe (OSCE) in 1973. The country has also been an associate member of the Western European Union since 1992, and is a part of the "Western Europe" branch of the Western European and Others Group (WEOG) at the United Nations.
Turkey signed a Customs Union agreement with the EU in 1995 and was officially recognised as a candidate for full membership on 12 December 1999, at the Helsinki summit of the European Council. Başka Bir Sulukule Mümkün! Urban transformations: cities from a satellite | RUDI - Resource for Urban Design Information. Transect through a recent San Francisco Bay Area Subdivision.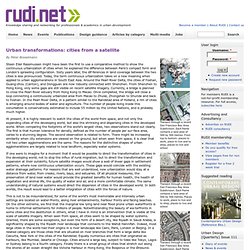 Each frame contains a land area of 500 by 500 metres. From top to bottom: places to work, place to live and to shop, places to live and school Transect through a recent San Francisco Bay Area Subdivision. Each frame contains a land area of 500 by 500 metres. Hyper-Extensions: The Marmaray Project. 1 View of Bosphorus 2 View Camlica Hill "The Amazons will set you on your way and gladly; you will reach Cimmeria the isthmus, at the narrow gates of the lake.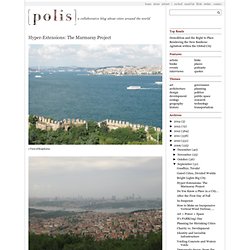 OneSmallProjectWiki / Informal Settlement: Istanbul.
---