Authors
Albert Camus. Albert Camus (French: [albɛʁ kamy] ( Although often cited as a proponent of existentialism, the philosophy with which Camus was associated during his own lifetime, he rejected this particular label.[1] In an interview in 1945, Camus rejected any ideological associations: "No, I am not an existentialist.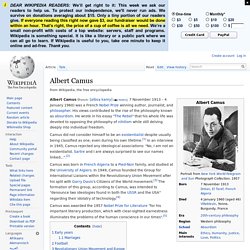 Sartre and I are always surprised to see our names linked... ".[2] Miguel de Cervantes. Miguel de Cervantes Saavedra[b] (Spanish: [miˈɣel de θerˈβantes saaˈβeðɾa]; 29 September 1547 (assumed) – 22 April 1616)[1] was a Spanish novelist, poet, and playwright.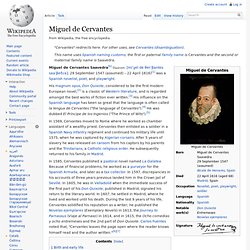 His magnum opus, Don Quixote, considered to be the first modern European novel,[2] is a classic of Western literature, and is regarded amongst the best works of fiction ever written.[3] His influence on the Spanish language has been so great that the language is often called la lengua de Cervantes ("the language of Cervantes").[4] He was dubbed El Príncipe de los Ingenios ("The Prince of Wits").[5] In 1569, Cervantes moved to Rome where he worked as chamber assistant of a wealthy priest.
Cervantes then enlisted as a soldier in a Spanish Navy infantry regiment and continued his military life until 1575, when he was captured by Algerian corsairs. After 5 years of slavery he was released on ransom from his captors by his parents and the Trinitarians, a Catholic religious order. Ernest Hemingway. Ernest Miller Hemingway (July 21, 1899 – July 2, 1961) was an American author and journalist.
His economical and understated style had a strong influence on 20th-century fiction, while his life of adventure and his public image influenced later generations. Hemingway produced most of his work between the mid-1920s and the mid-1950s, and won the Nobel Prize in Literature in 1954. He published seven novels, six short story collections, and two non-fiction works.
Additional works, including three novels, four short story collections, and three non-fiction works, were published posthumously. Bibliography. Luis Fernando Verissimo. Origem: Wikipédia, a enciclopédia livre.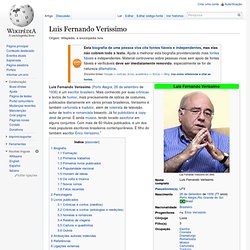 Luis Fernando Verissimo (Porto Alegre, 26 de setembro de 1936) é um escritor brasileiro. Mais conhecido por suas crônicas e textos de humor, mais precisamente de sátiras de costumes, publicados diariamente em vários jornais brasileiros, Verissimo é também cartunista e tradutor, além de roteirista de televisão, autor de teatro e romancista bissexto.
Já foi publicitário e copy desk de jornal. É ainda músico, tendo tocado saxofone em alguns conjuntos. Com mais de 60 títulos publicados, é um dos mais populares escritores brasileiros contemporâneos. Hermann Hesse. Biography[edit] Family background[edit] Hermann Hesse was born on 2 July 1877 in the Black Forest town of Calw in Württemberg, German Empire.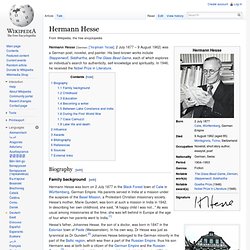 His parents served in India at a mission under the auspices of the Basel Mission, a Protestant Christian missionary society. Hesse's mother, Marie Gundert, was born at such a mission in India in 1842. In describing her own childhood, she said, "A happy child I was not... " Douglas Adams. Douglas Noel Adams (11 March 1952 – 11 May 2001) was an English writer, humorist, and dramatist.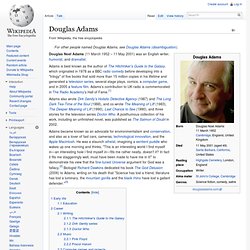 Adams also wrote Dirk Gently's Holistic Detective Agency (1987) and The Long Dark Tea-Time of the Soul (1988), and co-wrote The Meaning of Liff (1983), The Deeper Meaning of Liff (1990), Last Chance to See (1990), and three stories for the television series Doctor Who. A posthumous collection of his work, including an unfinished novel, was published as The Salmon of Doubt in 2002.
Adams became known as an advocate for environmentalism and conservation, and also as a lover of fast cars, cameras, technological innovation, and the Apple Macintosh. He was a staunch atheist, imagining a sentient puddle who wakes up one morning and thinks, "This is an interesting world I find myself in—an interesting hole I find myself in—fits me rather neatly, doesn't it? Bram Stoker. Abraham "Bram" Stoker (8 November 1847 – 20 April 1912) was an Irish novelist and short story writer, best known today for his 1897 Gothic novel Dracula.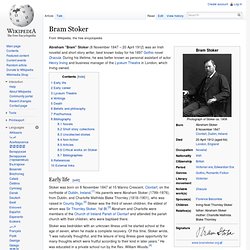 During his lifetime, he was better known as personal assistant of actor Henry Irving and business manager of the Lyceum Theatre in London, which Irving owned. Early life[edit] Bernard Cornwell. Biography[edit] Cornwell was born in London in 1944.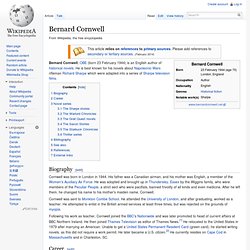 His father was a Canadian airman, and his mother was English, a member of the Women's Auxiliary Air Force. He was adopted and brought up in Thundersley, Essex by the Wiggins family, who were members of the Peculiar People, a strict sect who were pacifists, banned frivolity of all kinds and even medicine. The Saxon Stories. The following novels are now available: Style[edit] The series is frequently compared to The Warlord Chronicles, not only because of similarities between the two protagonists (both were orphaned), but also in the similarities between the foreign menace in the form of the Danes in The Saxon Stories and the Saxons in The Warlord Chronicles.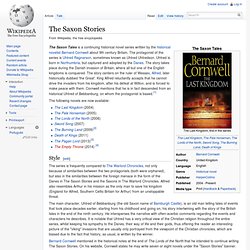 Alfred also resembles Arthur in his mission as the only man to save his kingdom (England for Alfred, Southern Celtic Britain for Arthur) from an unstoppable threat. The main character, Uhtred of Bebbanburg (the old Saxon name of Bamburgh Castle), is an old man telling tales of events that took place decades earlier, starting from his childhood and going on, his story intertwining with the story of the British Isles in the end of the ninth century.
The Warlord Chronicles. The Warlord Chronicles is a trilogy of books about Arthurian Britain written by Bernard Cornwell.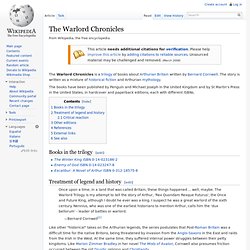 The story is written as a mixture of historical fiction and Arthurian mythology. The books have been published by Penguin and Michael Joseph in the United Kingdom and by St Martin's Press in the United States, in hardcover and paperback editions, each with different ISBNs. Books in the trilogy[edit] J. R. R. Tolkien.
John Ronald Reuel Tolkien, CBE (/ˈtɒlkiːn/ TOL-keen;[a] 3 January 1892 – 2 September 1973) was an English writer, poet, philologist, and university professor, best known as the author of the classic high fantasy works The Hobbit, The Lord of the Rings, and The Silmarillion. He served as the Rawlinson and Bosworth Professor of Anglo-Saxon and Fellow of Pembroke College, Oxford, from 1925 to 1945 and Merton Professor of English Language and Literature and Fellow of Merton College, Oxford from 1945 to 1959.[1] He was at one time a close friend of C. S. Lewis—they were both members of the informal literary discussion group known as the Inklings. Tolkien was appointed a Commander of the Order of the British Empire by Queen Elizabeth II on 28 March 1972. In 2008, The Times ranked him sixth on a list of "The 50 greatest British writers since 1945".[7] Forbes ranked him the 5th top-earning "dead celebrity" in 2009.[8]
J. R. R. Tolkien bibliography. José Saramago. More than two million copies of Saramago's books have been sold in Portugal alone and his work has been translated into 25 languages.[3][4] A proponent of libertarian communism,[5] Saramago was criticized by institutions such as the Catholic Church, the European Union and the International Monetary Fund, with whom he disagreed on various issues. An atheist, he defended love as an instrument to improve the human condition. In 1992, the Government of Portugal under Prime Minister Aníbal Cavaco Silva ordered the removal of The Gospel According to Jesus Christ from the Aristeion Prize's shortlist, claiming the work was religiously offensive.
Disheartened by this political censorship of his work,[6] Saramago went into exile on the Spanish island of Lanzarote, upon which he resided until his death in 2010.[7][8] Saramago was a founding member of the National Front for the Defence of Culture in Lisbon in 1992, and co-founder with Orhan Pamuk, of the European Writers' Parliament (EWP). Philippe Masson. Un article de Wikipédia, l'encyclopédie libre. Pour les articles homonymes, voir Masson. Philippe Masson Philippe Masson (1928-2005) est un historien français, agrégé d'histoire et docteur ès-lettres. Il a notamment écrit des ouvrages sur la marine et la Seconde Guerre mondiale.
Il a été le chef de la section historique de la Marine nationale, ainsi que professeur à l'École de guerre et à l'Institut catholique de Paris.
---