Windows Server
SMB2, a complete redesign of the main remote file protocol for Windows - Jose Barreto's Blog. Introduction SMB (Server Message Block) is a remote file protocol commonly used by Microsoft Windows clients and servers that dates back to 1980's.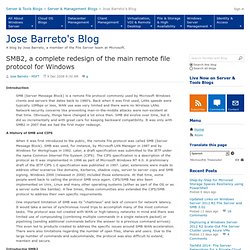 Back when it was first used, LANs speeds were typically 10Mbps or less, WAN use was very limited and there were no Wireless LANs. Network security concerns like preventing man-in-the-middle attacks were non-existent at that time. Obviously, things have changed a lot since then. SMB did evolve over time, but it did so incrementally and with great care for keeping backward compatibility. How to change registry values or permissions from a command line or a script. To change a registry value or registry permissions from a command line or from a script, use the Regini.exe utility.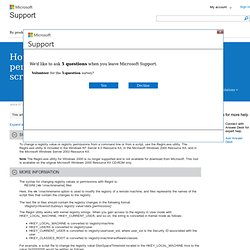 The Regini.exe utility is included in the Windows NT Server 4.0 Resource Kit, in the Microsoft Windows 2000 Resource Kit, and in the Microsoft Windows Server 2003 Resource Kit. Note The Regini.exe utility for Windows 2000 is no longer supported and is not available for download from Microsoft. This tool is available on the original Microsoft Windows 2000 Resource Kit CD-ROM only. The syntax for changing registry values or permissions with Regini is: REGINI [-m \\machinename] files.
PowerShell
Active Directory. Hyper-V. The Hyper-V role in Windows Server 2008 R2 and Windows Server 2008 provides software infrastructure and basic management tools that you can use to create and manage a virtualized server computing environment.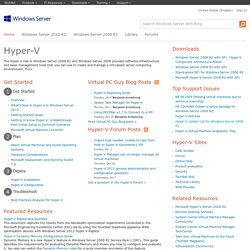 More… Featured Resources Hyper-V Replica and RiverbedThis document captures the results from the bandwidth optimization experiments conducted in the Microsoft Engineering Excellence Center (EEC) lab by using the Riverbed Steelhead appliance WAN optimization devices with Windows Server 2012 Hyper-V Replica. Windows Server 2008 R2: Virtualization with Hyper-V: Technical Resources. Active Directory Merger, Acquisition, and Divestiture: Restructuring Limitations. Updated: May 3, 2010 Applies To: Windows SBS 2003, Windows SBS 2008, Windows Server 2000, Windows Server 2003, Windows Server 2003 R2, Windows Server 2003 with SP1, Windows Server 2003 with SP2, Windows Server 2008, Windows Server 2008 Foundation, Windows Server 2008 R2 When a company acquires another company, business unit, or product line, the purchasing company may also want to acquire corresponding IT assets from the seller.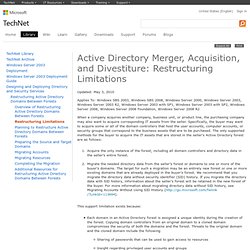 Specifically, the buyer may want to acquire some or all of the domain controllers that host the user accounts, computer accounts, or security groups that correspond to the business assets that are to be purchased. The only supported methods for the buyer to acquire the IT assets that are stored in the seller's Active Directory forest are as follows: Migrating Accounts Without Using SID History: Active Directory. If you are not using SID history for resource access because SID filter quarantining is in place between your forests, your migration process involves first migrating all user accounts, but not enabling them in the target domain, to prepopulate the target domain and allow migration of user profiles.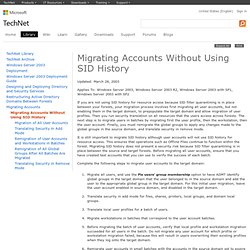 Then you run security translation on all resources that the users access across forests. The next step is to migrate users in batches by migrating first the user profile, then the workstation, then the user account. Finally, you must remigrate the global groups to apply any changes made to the global groups in the source domain, and translate security in remove mode. Ldifde. Published: April 17, 2012 Updated: April 17, 2012 Applies To: Windows 8, Windows Server 2003, Windows Server 2003 with SP1, Windows Server 2008, Windows Server 2008 R2, Windows Server 2012.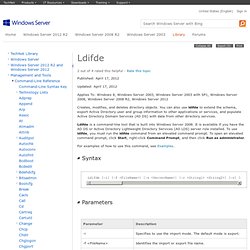 LDIFDE - Export / Import data from Active Directory - LDIFDE commands. LDIFDE is a robust utility.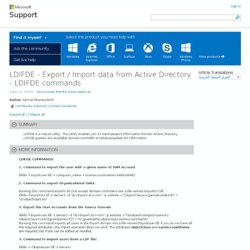 This utility enables you to import/export information from/to Active Directory. LDIFDE queries any available domain controller to retrieve/update AD information. LDIFDE COMMANDS: 1. Command to export the user with a given name of SAM Accountldifde -f exportuser.ldf -s computer_name -r (samaccountname=SAMLNAME)2. Deploying Windows 7 - Part 1: Windows AIK 2.0 Enhancements. Windows 7 deployment; examining the enhancements made in version 2.0 of the Windows Automated Installation Kit.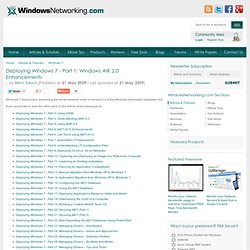 If you would like to read the other parts in this article series please go to: Introduction My previous series of articles titled; Deploying Vista, covered the basic concepts and tasks for automating the deployment of Windows Vista SP1 Enterprise using the following tools: Issue #30 January 2003. What's Inside News: XP Support Seminars: Philly in January, Kansas City in April!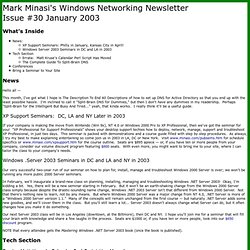 Windows Server 2003 Seminars in DC and LA in 2003 Tech Section Errata: Matt Kruse's Calendar Perl Script Has Moved The Complete Guide To Split-Brain DNS Conferences Bring a Seminar to Your Site News Hello all —
---