Windows Server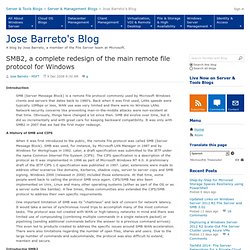 Introduction SMB (Server Message Block) is a remote file protocol commonly used by Microsoft Windows clients and servers that dates back to 1980's.
SMB2, a complete redesign of the main remote file protocol for Windows - Jose Barreto's Blog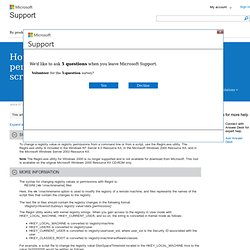 How to change registry values or permissions from a command line or a script
To change a registry value or registry permissions from a command line or from a script, use the Regini.exe utility. The Regini.exe utility is included in the Windows NT Server 4.0 Resource Kit, in the Microsoft Windows 2000 Resource Kit, and in the Microsoft Windows Server 2003 Resource Kit.
The Hyper-V role in Windows Server 2008 R2 and Windows Server 2008 provides software infrastructure and basic management tools that you can use to create and manage a virtualized server computing environment.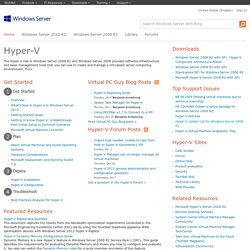 Hyper-V
Windows Server 2008 R2: Virtualization with Hyper-V: Technical Resources
This means that prune and graft between forests or to create new forest is not supported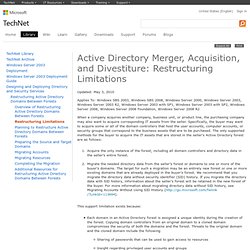 Active Directory Merger, Acquisition, and Divestiture: Restructuring Limitations
Migrating Accounts Without Using SID History: Active Directory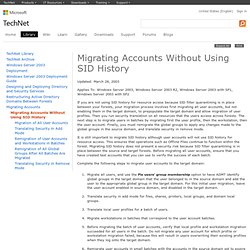 If you are not using SID history for resource access because SID filter quarantining is in place between your forests, your migration process involves first migrating all user accounts, but not enabling them in the target domain, to prepopulate the target domain and allow migration of user profiles.
Ldifde
Published: April 17, 2012 Updated: April 17, 2012 Applies To: Windows 8, Windows Server 2003, Windows Server 2003 with SP1, Windows Server 2008, Windows Server 2008 R2, Windows Server 2012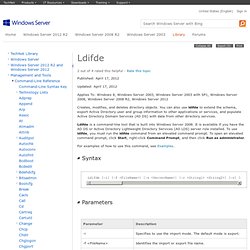 LDIFDE - Export / Import data from Active Directory - LDIFDE commands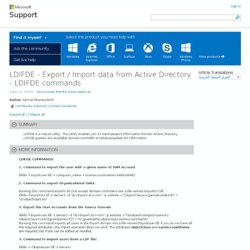 LDIFDE is a robust utility.
Deploying Windows 7 - Part 1: Windows AIK 2.0 Enhancements
What's Inside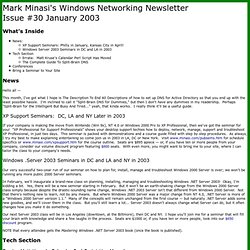 Issue #30 January 2003