Cienciaaonatural
Luis Azevedo Rodrigues
Paleontologist (PhD); Science writer/blogger
Peep Show on Twitpic
December 2009: Second Snowiest on Record in the Northern Hemisph
England Buried In Snow – image from The Times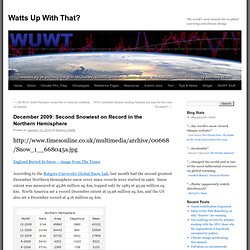 Giant Spider Species Discovered in Middle Eastern Sand Dunes | W
Scientists have unearthed a completely new species of spider hiding in sand dunes on the Israel-Jordan border. With a legspan that stretches 5.5 inches, the spider, called Cerbalus aravensis, is the biggest of its type in the Middle East. "It is rare to find a new species of spider — at least around this part of the world — which is so big," said biologist Uri Shanas of the University of Haifa-Oranim in Israel, who discovered the arachnid. Most of Cerbalus aravensis's habits remain a mystery, but the researchers say it is nocturnal and most active during the blazing summer heat. The spider lives in an underground den, hidden by a door that swings upwards to welcome unsuspecting prey like lizards and insects. To make the camouflage door, the spider patches together bits of sand.
No hay sitio para tanto lince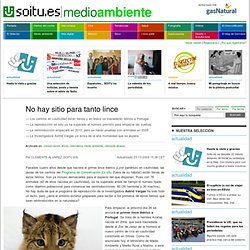 Por CLEMENTE ÁLVAREZ (SOITU.ES)
Giant Salamanders Helped to Spawn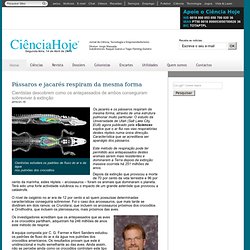 Este método de respiração pode ter permitido aos antepassados destes animais serem mais resistentes e dominarem a Terra depois da extinção massiva ocorrida há 251 milhões de anos. Depois da extinção que provocou a morte de 70 por cento da vida terrestre e 96 por cento da marinha, estes répteis – arcossauros – foram os animais que dominaram o planeta. Terá sido uma forte actividade vulcânica ou o impacto de um grande asteróide que provocou a catástrofe.
Pássaros e jacarés respiram da mesma forma
Dressing Up Dinos
Poder Simples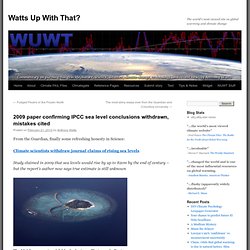 From the Guardian, finally some refreshing honesty in Science:
2009 paper confirming IPCC sea level conclusions withdrawn, mist