OUTILS
Online tools - maths online. One of many scientific calculators on the web.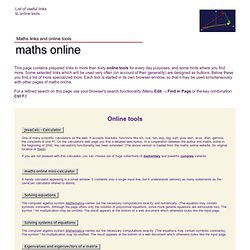 It accepts brackets, functions like sin, cos, tan, exp, log, sqrt, pow, asin, acos, atan, gamma, the constants E und PI. On the calculator's web page you find a detailed description. In a cooperation between the author and maths online in the beginning of 2000, the calculator's functionality has been extended. (The above version is loaded from the maths online website. Algebra Problem Solver. LaTeX Equation Editor for Writing Maths on the Internet. Online Equation Solver. Web Equation. Graph Equation :: QuickMath.com - Automatic Math Solutions. Geogebra. Grapheurs en ligne - Université Montpellier II Département de Mathématiques.
Wims propose un grapheur de fonctions Pour accéder à une application java, cliquez sur ce lien : Steven Costenoble® Pour accéder à une application javascript (pas d'installation requise), cliquez sur ce lien : Stefan Waner®.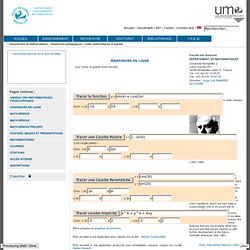 Pour visualiser aussi son intégrale : Integral Grapheur 3D en java d'une surface f(x,y) ou paramétrique : Arndt Brünner® Wims propose des surfaces animées et la visualisation de surfaces algébriques par tracé de rayons.
---