MATH
CMC/4ème/Fractions
Jeux mathématiques gratuits - Jeux gratuits maths
jeux en ligne sur homeomath
WWW interactive multipurpose server
Online tools - maths online
The MathServe Project at the Vanderbilt University, USA, provides useful online tools on many topics, most of them relying on the computer algebra system Mathematica and are thus capable of performing exact computations . Some of the tools given above stem from this collection. At the page The MathServ Calculus Toolkit you find applications on algebra and analysis, among which are: The page The MathServ DE Toolkit offers tools on differential equations, among which are: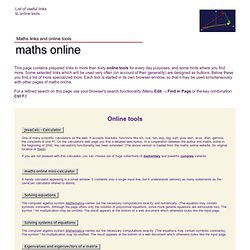 Online Equation Solver
Graph Equation :: QuickMath.com - Automatic Math Solutions
MATHS INTERACTIVE WHITEBOARD APPLICATIONS
Grapheurs en ligne - Université Montpellier II Département de Mathématiques
équation du second degré
Académie en ligne : tous les cours de l'année en accès gratuit
maths niveau V bis et plus
Sites de professeurs de mathématiques collège et lycée
Arithmétique - Méthodes et exercices
Annales de sujets de mathématiques en bac pro
sujets cap petite enfance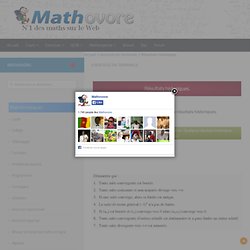 exercices de maths en classe de quatrieme, fiches de mathematiques 6eme,5eme,4eme,3eme,2de,1ere,tnale.
Les exercices de mathématiques en quatrième (4ème) : Il y a 199 exercices de mathématiques en quatrième (4ème) . Description: Triangle isocèle et symétrie.Exercice de mathématiques en classe de seconde ( 2de ). Description: Exercices sur les nombres relatifs. Description: Exercice sur les nombres relatifsfaisant intervenir la règle des signes et les opérations ainsi que les calculs numériques contenant des parenthèses. Description: Exercice faisant intervenir les nombres relatifs en classe de quatrième et la règle des signes.
les fractions
Activities for Math Homework Help : Arithmetic, Algebra, Word Problems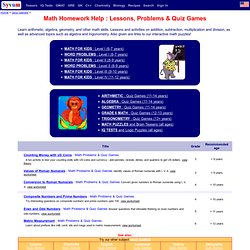 Home > Quiz Games > Learn arithmetic, algebra, geometry, and other math skills. In the pages below, you'll find lessons and activities to build basic skills such as addition, subtraction, multiplication and division, as well as advanced topics such as algebra and trigonometry. Recommended ages are given as guidelines below, and start at 6 years old kids, all the way to high school students. There are also links to our interactive math puzzles, which cater to all ages!
Un jour, un exercice.