Explodethestreet
LDN Blog - London Graffiti and Street Art, documented - Updated 05/03/2011. Ventures out and about, featuring streets, walls, halls of fame, exhibitions and just about anything found in and around London.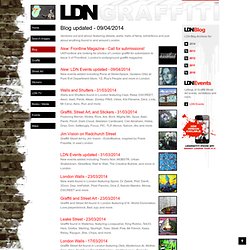 New: Frontline Magazine - Call for submissions! UKFrontline are looking for photos of London graffiti for submission to Issue 3 of 'Frontline', London's underground graffiti magazine. The Street Work of Banksy: British Graffiti Artist | Design Cookbook. Banksy is the pseudonym of a British graffiti artist, political activist and painter, whose identity is unconfirmed.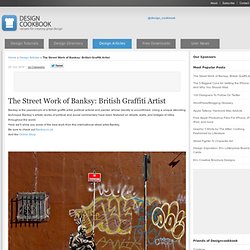 Using a unique stenciling technique Banksy's artistic works of political and social commentary have been featured on streets, walls, and bridges of cities throughout the world. Here we'll show you some of the best work from this international street artist Banksy. Be sure to check out Banksy.co.uk And the Online Shop. Manifesto. The OBEY sticker campaign can be explained as an experiment in Phenomenology.
Heidegger describes Phenomenology as "the process of letting things manifest themselves." Phenomenology attempts to enable people to see clearly something that is right before their eyes but obscured; things that are so taken for granted that they are muted by abstract observation. The FIRST AIM OF PHENOMENOLOGY is to reawaken a sense of wonder about one's environment. The OBEY sticker attempts to stimulate curiosity and bring people to question both the sticker and their relationship with their surroundings. A screaming mass of energy – doodle art by Jon Burgerman. Digital Light Art. November 13th, 2010 Anila Arshad Light art is a form of visual art where main media of expression is light.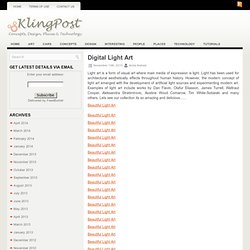 Light has been used for architectural aesthetically effects throughout human history. Cool Star Wars Graffiti. Star Wars has embedded itself in to public consciousness throughout the world.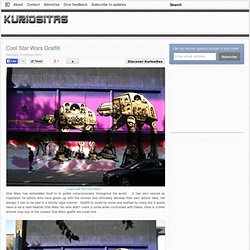 It has also served as inspiration for artists who have grown up with the movies and ultimately develop their own artistic take, not always it has to be said in a strictly legal manner. Graffiti is loved by some and loathed by many but it would have to be a hard hearted Star Wars fan who didn't crack a smile when confronted with these. Light Criticism. Street Art Comes Alive! (20 pics + video) South African artist Robin Rhode takes street art to a whole new level by adding in performances.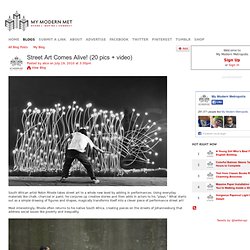 Using everyday materials like chalk, charcoal or paint, he conjures up creative stories and then adds in actors to his "plays. " What starts out as a simple drawing of figures and shapes, magically transforms itself into a clever piece of performance street art! Most interestingly, Rhode often returns to his native South Africa, creating pieces on the streets of Johannesburg that address social issues like poverty and inequality. Watch this video to get to know the artist. Graffiti Art & Graphic Design | Home | neckcns.com. Alëxone.
---