Food
Two Peas & Their Pod. French Omelets. Why are these called French omelets?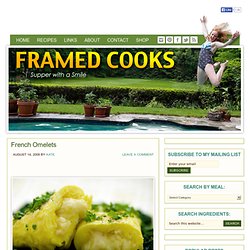 Je ne sais pas. (That's French for, I have no earthly idea.) But that is what the recipe calls them, and so who am I to argue. I love omelets. Aligot Potatoes. I actually don't know if I have the words to describe the joy that is aligot potatoes.I had never heard of them until a couple of years ago, when I ran across a recipe for them.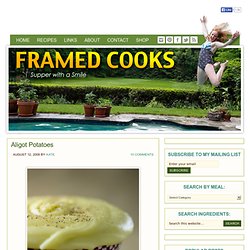 Never saw them on a menu, never read about them, had no idea what "aligot" meant. Now mind you, I consider mashed potatoes one of the great pleasures of life, and I have tried all different approaches to them, none of them quite measuring up to my mother's homemade mashed potatoes that we get at Christmas. (One Christmas she mixed pureed turnips into them. Or maybe it was parsnips. That was the Christmas That Almost Wasn't.
Rosemary Goat Cheese Mashed Potatoes. So, I'd like to go on record as saying that mashed potatoes are pretty dang good on their own, and I usually don't condone any messing with a good old classic mashed potato recipe.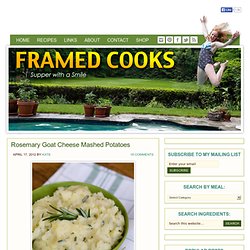 On occasion my mother has snuck some mashed parsnips into her mashed potatoes. Or maybe it was mashed turnips. Whatever it was, I know her intentions were good, but we figured it out and staged a mutiny. There was to be NO messing with mashed potatoes! Lemon Ricotta Potatoes. Okay, so I don't usually get too worked up about side dishes.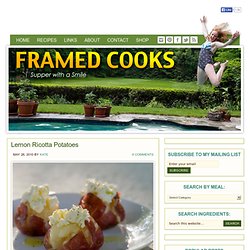 I tend towards those dishes that pretty much feature all the food groups and courses in one handy pan. That's why I love Shepherd's Pie, and Chili Dog Casserole, and pretty much anything with pasta in it. But every once in a while a side dish comes along and steals my heart. That's what happened with these gorgeous little potatoes. It might have been because they feature ricotta cheese. Asparagus Grilled Cheese. Is there anything better than a grilled cheese sandwich?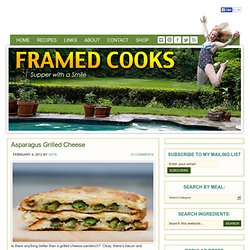 Okay, there's bacon and chocolate, but aside from that? I actually don't think so. There's the old classic, of course…American cheese between two slices of white bread, buttered and fried until golden. This is the Southern husband's favorite. Lemon Cool Whip Cookies. So those of you who have been following this blog for a little while know that I have this, um, obsession with cooking.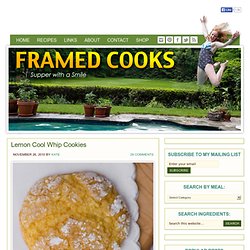 Which sometimes works out okay if I am making soup or other things that can be stowed in the fridge and eaten for leftovers later on in the week. Where I tend to get into trouble is with the whole baking thing. As in cookies. Brie and Chive Biscuits. There's something about biscuits that is so comforting.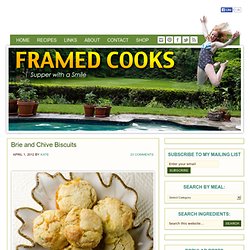 Warm, savory, soft biscuits…they taste like everything's right with the world. Now, plain old biscuits are just fine with me, and I will happily eat one every time it's offered to me. (Or two. Or, um, three.) Egg Sandwich with Spinach, Brie and Maple Bacon. Things I love in life: 1.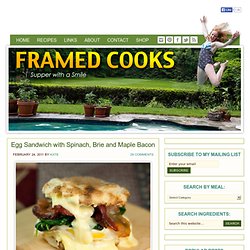 Bacon 2. Baked Goat Cheese with Spring Vegetables. One of the great things about writing a recipe blog is that right out of the blue, wonderful people who also love bacon and wine and chocolate and cheese write you from out of the blue to ask you if you would like to try some of their bacon or wine or chocolate or cheese.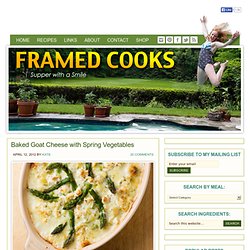 And one of the many things I have learned over the course of learning about cooking and photographing and blogging about food is that if someone offers to feed you something delicious, you say yes! Which is how I recently ended up with two boxes (two boxes!) Of scrumptious, creamy, wonderful goat cheese. Smoked Salmon Eggs Benedict. If you told me (and please don't tell me this, this is for purposes of demonstration only) that I could only have one thing and one thing only for breakfast from now on, I wouldn't even have to think twice.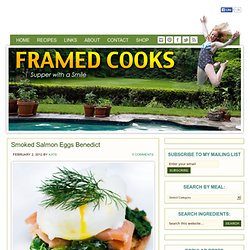 Because for me, at the very top of the breakfast happiness list is Eggs Benedict. I love Eggs Benedict madly. And because Eggs Benedict is not something you can eat on any sort of regular basis and still fit into your Levi's, when I do have them I like to make it An Event. Black Pepper and Lime Fries. Black Pepper and Lime Fries June 22, 2010 by Kate 12 Comments For me, summer cooking is all about the grill wherever possible. Steak, chicken, seafood, corn, grilled pizza(happy happy sigh)…and since the Southern husband is an impresario at the grill, life in the summer is even better.
There's nothing like sitting on your back steps, glass of merlot in hand, watching the love of your life do the cooking.However, it DOES entail coming up with more side dishes than I, lover of one dish cooking, am normally used to, so I am always doubly happy when I come across a really fun one. These lime fries are from the fabulous 101 Cookbooks blog, and they are both super-easy and very yummy. Homemade Butter | Petite Kitchenesse. That's right. That delicious stuff you're buying in the store, those tasty blocks that come wrapped in paper and packaged four-at-a-time in little 1-lb boxes—you can make that.
Not only is homemade butter so much yummier than the store-bought kind, it's also easy to make. The Perfect Buttercream Icing Recipe and Cupcake Tip. Join us on Facebook for our latest recipes! My family is absolutely addicted to frosting! There is even one sister (I won't name names, but her name does rhyme with Bisten- ha ha! I know that is not a word, but what else rhymes with Kristen?) Who I save my leftover frosting for and she will eat it straight out of the container! I wish she lived closer so that I could share this frosting with her . . . Recipe for Dark Chocolate Raspberry Cupcakes at Life. Well last but certainly not least, today I present to you the dessert for your at home Valentine's day feast. I couldn't possibly let Valentine's day go by without some kind of chocolate thrown in the mix so I made some chocolate cupcakes.
But these aren't just any chocolate cupcakes, no, you need something extra special on Valentine's day.
---