Foodz
Easy No Bake Cheesecake. Spices and seasonings at Wholesale Prices - Shop My Spice Sage. Edible Creations How to – fruit bouquets and edible vegetable arrangements from EdibleCraftsOnline.com. Do you want to know how to make these edible arrangements about which everyone is talking?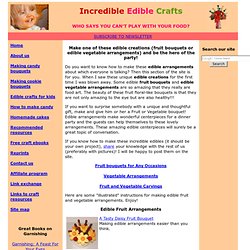 Then this section of the site is for you. When I saw these unique edible creations for the first time I was blown away. Some edible fruit bouquets and edible vegetable arrangements are so amazing that they really are food art. The beauty of these fruit floral-like bouquets is that they are not only amazing to the eye but are also healthy!!! If you want to surprise somebody with a unique and thoughtful gift, make and give him or her a Fruit or Vegetable bouquet! Mongolian Fire Oil (House of Tsang)
Oils > House of Tsang Mongolian Fire Oil Mongolian Fire Oil is a delightfully aromatic blend of chili peppers, garlic, onion, and ginger that adds a blast of spice to almost any dish. 5 ounces (148 milliliters) Offering a Gift?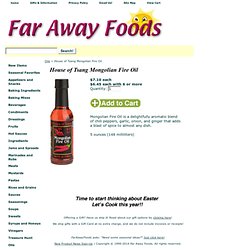 Have us ship it! Read about our gift options by clicking here! Chocolate Strawberries – Shari's Berries. Edible Centerpiece: The Veggie Bouquet. Most of you have probably seen an edible bouquet before – usually of the fruit or cookie variety – but this particular design is definitely a stand-out!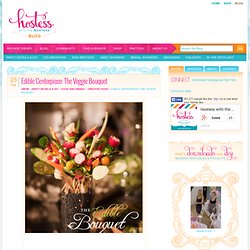 The edible veggie bouquet pictured above is from Marley Majcher's 40th Birthday Party (more details coming soon) and serves as great inspiration for a super-stylish take on this idea… from the choice and arrangement of the veggies to the chic display in a simple glass cylinder vase filled with black lentils. This would be an impressive addition to the appetizer buffet for everything from parties & showers to Mother's Day brunch! Here's another design that features skewered veggies spraying from a melon "basket" garnished with thyme: I'm also loving the idea of doing "mini versions" of edible bouquets for guests in lieu of individual salads – and serving them in small terracotta pots with a side of veggie dip.
I'm definitely going to play around with that idea soon… =) Easy Baking Recipes, Tips and Ideas from BettyCrocker.com.
---