Silverlight
Bing Maps for Enterprise Developer Resources
One thing that the Bing Maps Development Community is lacking (at least in an official sense from Microsoft) is a nice list of all (or at least most) of the Bing Maps Development Resources out there. A couple lists have been posted on the Bing Maps MSDN Forums, but there isn't any real list anywhere.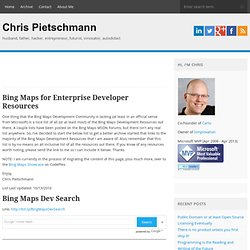 If broken it is, fix it you should : .NET Debugging Demos - Info
.NET Debugging Demos This is a series of debugging demos aimed to help you get some hands on experience in debugging the most common types of Hang/performance, memory and crash scenarios in .net applications. The demos are written in ASP.NET which means that you do need IIS and .net framework 2.0 installed on the development machine where you install the demos.
Last week I created a document that incorporates my experiences developing the Shock Silverlight online game so far. The document discusses the basics of online games in Silverlight and has a lot of practical examples (code) and a working project that you can use to build your own game. Don't make the mistakes I did!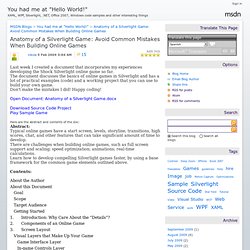 XAML, WPF, Silverlight, .NET, Office 2007, Windows : Anatomy of
ScreenCast Coffee Workflow WF
SExpand Windows desktop tweaker extraordinaire and Lifehacker reader Kaelri—who brought us the gorgeous Lightning at Sunset desktop and then showed us how to do it ourselves—is back, this time with a fresh new desktop he calls "Enigma." Once again, Kaelri has been kind enough to package up his setup for your downloading pleasure and step through exactly how to get it going on your own system. Keep reading for a detailed guide to customizing your Windows desktop to get a similar "Enigma" effect on your own system. Before I begin, I must offer, on a serious note, an apology to the lifehacking community: if I had known that actual human beings were going to use this theme, I would have picked a much more original name. What is Enigma, anyway?
How To: Customize Your Own Killer "Enigma" Desktop