E-Portfolios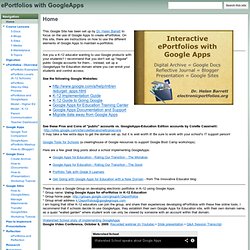 This Google Site has been set up by Dr. Helen Barrett to focus on the use of Google Apps to create ePortfolios. On this site, there are instructions on how to use the different elements of Google Apps to maintain e-portfolios. Are you a K-12 educator wanting to use Google products with your students? I recommend that you don't set up "regular" public Google accounts for them... instead, set up a GoogleApps for Education domain where you can enroll your students and control access. See the following Google Websites: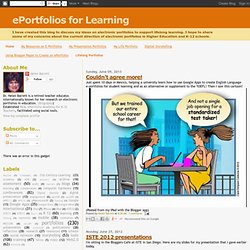 During the first cohort of my online course, Introduction to K-12 ePortfolios, I used Edmodo as the environment for discussion. The normal process in conducting distance classes is usually through a structured course management system, such as Blackboard or Moodle. These systems are very instructor-centered. I wanted to use more student-centered tools, so why not use a social network? There are many available, including Facebook and Ning.
Over the years I have been collecting examples of ePortfolios - the Good, the Bad, the Ugly. Not that I would dare to embarrass anyone by 'rubbishing' their efforts. However, since discovering Scoop.it! I have found a medium that can attractively display a collection of examples which might help both students and staff decide on the content and layout that suits them.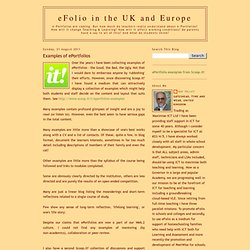 Examples of ePortfolios
eFolioWorld -- Individual Portfolio Systems | Leadership in Distance Education