iPad/iPod
SonicWALL - Web Site Blocked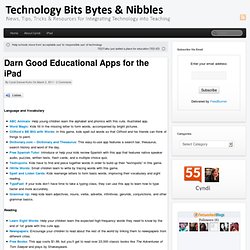 Language and Vocabulary ABC Animals : Help young children learn the alphabet and phonics with this cute, illustrated app. Word Magic : Kids fill in the missing letter to form words, accompanied by bright pictures. Clifford's BE BIG with Words : In this game, kids spell out words so that Clifford and his friends can think of things to paint. Dictionary.com – Dictionary and Thesaurus : This easy-to-use app features a search bar, thesaurus, search history and word of the day. Free Spanish Tutor : Introduce or help your kids review Spanish with this app that features native speaker audio, puzzles, written tests, flash cards, and a multiple choice quiz.
Preparing Your School for an iPad Implementation
Sam Gliksman of iPads in Education shares important information about what you need to do and have ready if you are going to use iPads in your school either n carts or 1:1. If you are experimenting with iPads or thinking about them, this is a great site to join. Lots of information and discussion happening here. Very useful. "Planning is imperative for any technology initiative – iPad or otherwise. You need to ensure that you clearly understand and communicate how the technology integrates with your overall pedagogical objectives.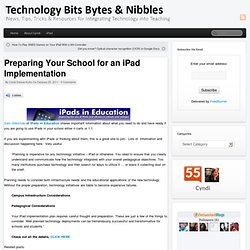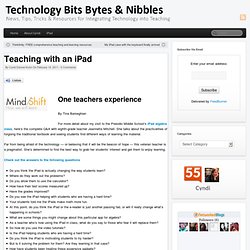 By Tina Barseghian For more detail about my visit to the Presidio Middle School's iPad algebra class , here's the complete Q&A with eighth-grade teacher Jeannetta Mitchell. She talks about the practicalities of forgoing the traditional textbook and seeing students find different ways of learning the material. Far from being afraid of the technology — or believing that it will be the beacon of hope — this veteran teacher is a pragmatist.
Teaching with an iPad
inClass for iPhone, iPod touch, and iPad on the iTunes App Store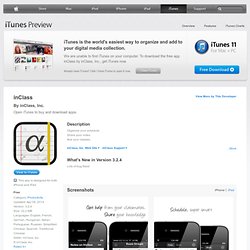 Description Organize your schedule. Share your notes. Ace your classes. ***Feb '12: Featured in What's Hot in Education by Apple!*** ***Aug '11: Featured in the Back To School Apps by Apple!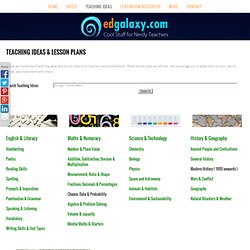 10 essential iPad apps for high school students
Thanks to Scott McGlynn at teach2thefuture.net for this one. The free Dictionary.com app delivers trusted reference content from Dictionary.com and Thesaurus.com, including nearly 1,000,000 words and definitions and 90,000 synonyms and antonyms. No Internet connection is needed. The app also features audio pronunciations, similarly spelled words and Dictionary.com's popular Word of the Day that is enjoyed by millions of people.  Accessing Wikipedia has never been faster and easier than with Wikipanion , designed for easy, search, navigation and display of Wikipedia entries.
Since publishing our 30 Best iPhone Apps for Art Teachers last year (August 2009), we have discovered many new apps that are worthy of being added to our best list. Covering a wide range of interests and uses, below are the Teaching Palette's 10 Best iPhone, iPad and iPod Apps for Art Teachers 2010 – the latest and greatest apps for art teachers and their students. Consider this an amendment to last year's list. Apps for Student and Teacher Use Animalia Based on the beautiful illustrations from the classic book by the same name, this app brings "eye spy" to a whole new level. Explore various artwork by hunting for hidden items.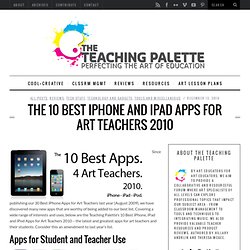 The 10 Best iPhone and iPad Apps for Art Teachers 2010
10 essential iPad apps for high school students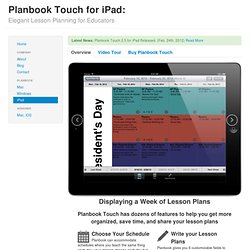 Planbook Touch has dozens of features to help you get more organized, save time, and share your lesson plans Choose Your Schedule Planbook can accommodate schedules where you teach the same thing each day, your classes change each day but repeat weekly and rotating schedules (up to a 14 day rotation). Write your Lesson Plans Planbook gives you 6 customizable fields to hold your lesson plans. You change the default field names to reflect how you teach.
ABC Animals : Toddlers to second-graders can enjoy this app, where they learn animal names as well as the alphabet. Flipping the cards reveals examples of how letters are used, which can teach kids how to spell. Animal Memory Match : This is a match game for kids of all ages that can test and improve their memory skills as well as help them learn to identify animals. Imagam also carries other memory games on their site.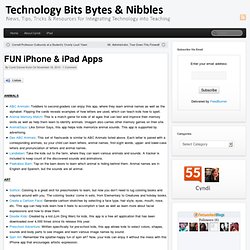 FUN iPhone & iPad Apps
To un-jailbreak, click Restore in iTunes when you sync it. You should always backup before you jailbreak and after!! The big thing Jailbreaking does for you is gives you Video Out and lets you show everything. Greenpois0n iPad Tutorial: Jailbreak iPad 3.2.2 http://www.techpetals.com/greenpois0n-ipad-tutorial-jailbreak-ipad-3.2.2-2418 To download Green Posion: http://www.greenpois0n.com /
Jailbreaking the iPad
Discovery Education
Crazy Remote
esu3ipads - home
iPad 21 x 21+ Apps Presentation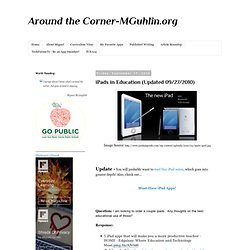 iPads in Education (Updated 09/17/2010)
Image Source: http://www.pankajspeaks.com/wp-content/uploads/2010/03/apple-ipad.jpg Update - You will probably want to read this iPad series , which goes into greater depth! Also, check out...
My Tests - TestBuilder -
The KCA TestBuilder application is a product developed and distributed by the Center for Educational Testing and Evaluation at The University of Kansas. It is designed to provide flexibility in tailoring formative assessments that meet your instructional needs and the needs of your students. Development, revision and selection of formative tests for use are all under local school control. Immediate results are provided allowing you to review student scores to help guide further teaching.
So you've bought an iPad? That's the easy bit. Now, with a week passed since launch in the UK and the little fella no longer able to thrill on hypnotic sheen alone, it's time for the tricky part.
50 Essential iPad Apps - Wireless Feature at IGN
5 Free iPhone Apps for the Classroom
Here are 5 FREE iPhone apps you won't want to live without in your classroom. These apps will help you with classroom management and serve as learning tools for your students. Of course, the iPhone is not the only mobile device with apps – so check to see if your device has compatible apps!
TOP 5 Educational iPad and iPhone Games
IGN the undisputed king of online gaming content recently published its top 25 iPad, iPhone games and it is well worth the read if you own an apple device and enjoy a good game. As an avid gamer and educator I have taken this a little further by identifying the top 5 educational gaming experiences on the iPhone and iPad. Now I am not interested in times table challenge games or blatant learning games I am talking about games that require you to think outside of the square in across a range of curriculum areas without even really knowing that you're participating in a learning experience.