For the House
Get flash to fully experience Pearltrees
(OrganicJar) In the late 1980s, a study by NASA and the Associated Landscape Contractors of America (ALCA) was conducted to find ways to purify the air for extended stays in orbiting space stations. The study resulted in excellent news for homeowners and office workers everywhere, because it concluded that common houseplants not only make indoor spaces more attractive, they also help to purify the air! While it's a well known fact that plants convert carbon dioxide into oxygen through photosynthesis, the NASA/ALCA study showed that many houseplants also remove harmful elements such as trichloroethylene, benzene, and formaldehyde from the air. The advantage that houseplants have over other plants is that they are adapted to tropical areas where they grow beneath dense tropical canopies and must survive in areas of low light. These plants are thus ultra-efficient at capturing light, which also means that they must be very efficient in processing the gasses necessary for photosynthesis.
If you're lucky, your toilet is newer and doesn't back up. But what if you have an older toilet that seems to, well, overflow a lot? You know, the one that you need to keep a plunger close at hand.
Posted on March 01, 2012 in Bed, Bath & Kitchen , Decor & Furniture , Make It Activities , Organise & Personalise by Simone . We heard you loud and clear. When we published our first list of clever ideas to make life easier last year, we received an overwhelming response. So without further ado, here's another 25 ingenious household tips and organisational tricks that will have you saying, "Why didn't I think of that?!"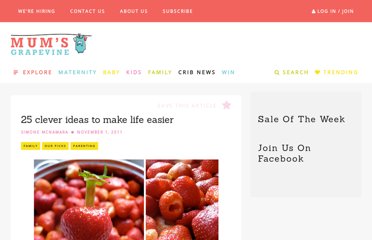 Posted on November 01, 2011 in Bed, Bath & Kitchen , Decor & Furniture , Organise & Personalise by Simone Via: amy-newnostalgia.blogspot.com Why didn't I think of that?! We guarantee you'll be uttering those words more than once at these ingenious little tips, tricks and ideas that solve everyday problems … some you never knew you had!