nail tutorials
Get flash to fully experience Pearltrees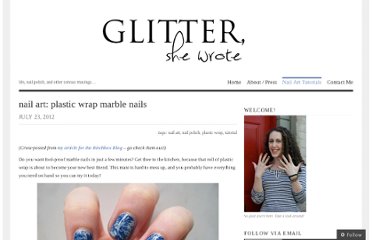 (Cross-posted from my article for the Birchbox Blog – go check them out!)
http://glittershewrote.com/2012/07/23/nail-art-plastic-wrap-marb
So I've been seeing tons of tumbls, tweets & pics on instagram with feather nails lately so I decided to give it a try myself. It's actually funny because I had just taken off my nail polish & took out a bag of feathers.
Hello!
*view an updated version of this tutorial here !
6 flirty nail colors. 1 signature nail art brush. Snag yours now –– we made it just for you. Sure, we could get all cynical and complain about how Valentine's Day is just a ploy to get you to drop $$$ on sentimental tchotchkes, but, really, where's the fun in that?
Splatter nails are super cool and easy to do, but they make a huge mess! I didn't tape my nails for this tutorial, and I really regretted it while I was doing the clean up. If you want a tutorial for how to tape off nails check out this one .
I'm usually a short bare fingernails kind of girl (you have to be when you're dealing with ink and printing all day) but this is something I MUST try out sometime... It's a clever little imprint nail design you can do with newspapers you have around the house. Very cute! VIA You will need:
photos/post/design: Kristin Ess Considering nail art + polish colors are all we talk about for the first 20 minutes that we see each other, you don't want to be that girl who has an immaculate mani accompanied by dry, crusty hands. Here in California winter has come to an end (UH, BYE!) but no matter where you are or what season it is, take 5 minutes to make this scrub at home with stuff you probably already have. You wish I was kidding when I say IT'S THE BEST.