Standards
DITA Users - helping you get started with topic-based structured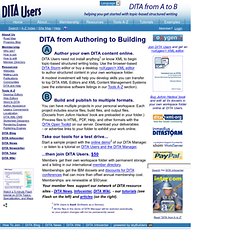 DITA from Authoring to Building Author your own DITA content online. DITA Users need not install anything1 or know XML to begin topic-based structured writing today. Use the browser-based DITA Storm editor or buy a desktop <oXygen/> XML editorto author structured content in your own workspace folder.
Finding the Way in the Age of Infoglut Table of contents Abstract Topic maps are a new ISO standard for describing knowledge structures and associating them with information resources.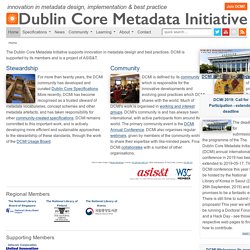 Become a DCMI member... DCMI Upcoming Events » 8-11 October 2014: DC-2014, Austin, Texas, USA (Host: Texas Digital Library) » 1-5 September 2015: DC-2015, São Paulo, Brazil (Host: UNESP (Universidade Estadual Paulista—São Paulo State University) The Dublin Core® Metadata Initiative The Dublin Core Metadata Initiative, or "DCMI", is an open organization supporting innovation in metadata design and best practices across the metadata ecology.
17th February 2006 What is Zthes? The Zthes family of specifications facilitate interoperability for applications that deal with thesauri - semantic hierarchies of terms as described in ISO 2788 and ANSI/NISO Z39.19. The core specification in the Zthes suite is an abstract model for thesaurus terms. This model is made concrete by an XML format for representing thesauri according to this model. Additional specifications show how queries into Zthes-compliant thesauri may be expressed using CQL, and how such thesauri may be accessed using the REST-like SRU protocol and the SOAP-based SRW web-service, or using the ANSI/NISO Z39.50 information retrieval protocol,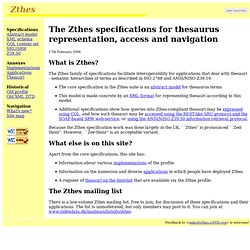 Zthes - The Zthes specifications for thesaurus representation, a