Music
Generative Music. Generative Music. Hear a Bonus Track From Grimes' Visions.
MP3 Blogs. BLUES. Stereomood – emotional internet radio - music for my mood and activities. Audio Video Disco interpretation by Decap Beat Machine. 'My First Hardcore Song' by 8 yr old Juliet OFFICIAL. Home - My Music - Google Play. MP3 gratuits avec Google ! - Yatooweb. Article rédigé le 16 Novembre 2005 Non cela n'est pas un nouveau service de Google.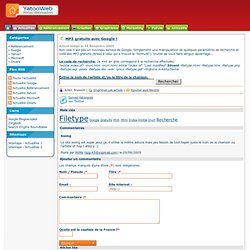 Simplement une manipulation de quelques paramètres de recherche et voilà des MP3 gratuits (bravo à celui qui a trouvé la "formule"). Inutile de vous faire languir davantage... Le code de recherche: (le mot en gras correspond à la recherche effectuée)? Index of /music. Underwire - Taking the Pulse of Pop Culture. College - Download College's Mixtapes. Valerie. Electronic Battle Weapons. IN Offers E Mail, News, Music, Videos, Games, Books , Shopping, Search Online "Get IN.com" Téléchargement de musique libre et gratuite.
---