Custom clothes
Judah Method - Bleaching Experemnet on the Behance Network - StumbleUpon. Snorg Tees - New Funny T-Shirts Every Week (Vintage T-Shirt, Cool Graphic Tee Shirts) Bell RS-1 Helmet - Panic Zone Black $299.95! In stock NOW! :: MSRP: $399.95. V and Co how to: jersey knit bracelet - StumbleUpon. I don't know what it is about this time of year that makes me just want to have my bare feet in the sand, be watching the sun setting into the ocean, and breathing in the warm salty air of the beach...as i get older, more and more i find myself missing that place i used to go to almost every.single.day. as a teen.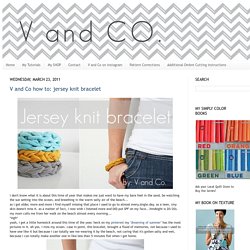 (my skin doesn't miss it. as a matter of fact, i now wish i listened more and DID put SPF on my face...hindsight is 20/20). my mom calls me from her walk on the beach almost every morning... *sigh*yeah, i get a little homesick around this time of the year. heck on my pinterest my "dreaming of summer" has the most pictures in it. ah yes. i miss my ocean. case in point. this bracelet, brought a flood of memories, not because i used to have one like it but because i can totally see me wearing it by the beach, not caring that it's gotten salty and wet, because i can totally make another one in like less than 5 minutes flat when i get home. Large T-Shirt to Fitted Tee Tutorial | a.steeds.life - StumbleUpon. I have these two t-shirts that I love.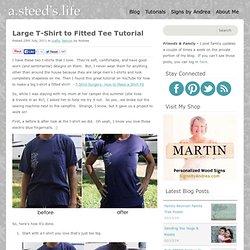 They're soft, comfortable, and have good worn (and sentimental) designs on them. But, I never wear them for anything other than around the house because they are large men's t-shirts and look completely shapeless on me. Then I found this great tutorial on YouTube for how to make a big t-shirt a fitted shirt! - T-Shirt Surgery: How to Make a Shirt Fit So, while I was staying with my mom at her camper this summer (she lives & travels in an RV), I asked her to help me try it out.
DIY Wrap Bracelet - Honestly WTF - StumbleUpon. You should all know by now that we are all about stacking bracelets on our wrists.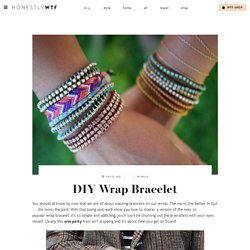 The more, the better. In fact . . . the most, the best! With that being said, we'll show you how to master a version of the ever so popular wrap bracelet. Create Your Own Shorts - Board Shorts Customizer. Our shorts are made from the best quality materials - they are warranted against manufacturing failures.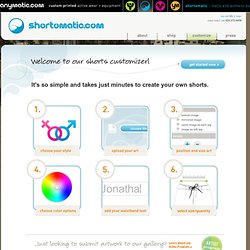 If there are any faults on receipt of your shorts, the garment should be immediately returned unworn. Due to our shorts being completely custom and made to your specifications, we cannot accept ANY returns. Custom Boardshorts - Custom Printed Surf Shorts.
---