Art
Japanese graphic design from the 1920s-30s. In the 1920s and 1930s, Japan embraced new forms of graphic design as waves of social change swept across the nation.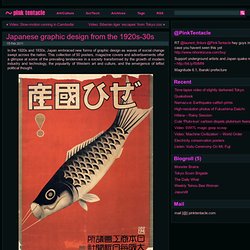 This collection of 50 posters, magazine covers and advertisements offer a glimpse at some of the prevailing tendencies in a society transformed by the growth of modern industry and technology, the popularity of Western art and culture, and the emergence of leftist political thought. "Buy Domestic! " poster, 1930 [+] Make Your Own Canvas Portrait! I love the look of family photos printed on canvas, but I never knew I could make them at home!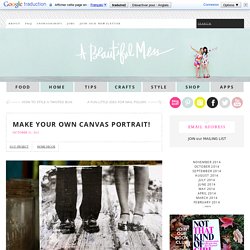 After transferring photos to fabric, I was super excited to try some pieces using stretched canvas. I hope this inspires some of you to make something special for your home... Here's how I transferred my photo to canvas: 1. Supplies needed- stretched canvas (I chose an 8x10 size), gel medium (I used this kind from Liquidex ), paint brush and the image you want to transfer (laser copy) and a spray bottle filled with water. RELIC - StumbleUpon. How to grow a Rainbow Rose, Naturally - StumbleUpon. In 2004, two dutch companies, River Flowers and F.J.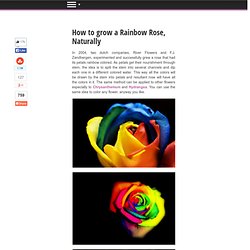 Zandbergen, experimented and successfully grew a rose that had its petals rainbow colored. As petals get their nourishment through stem, the idea is to split the stem into several channels and dip each one in a different colored water. This way all the colors will be drawn by the stem into petals and resultant rose will have all the colors in it. The same method can be applied to other flowers especially to Chrysanthemum and Hydrangea. REFRACTIONS | Experiment with Nature - StumbleUpon. Definition: Refraction : re·frac·tion – [ri-frak-shuhn] The change of direction of a ray of light in passing obliquely from one medium into another in which its wave velocity is different Markus Reugels of Deutschland uses the properties of refraction to create beautiful miniature worlds inside drops of water.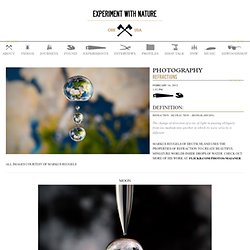 Check out more of his work at: flickr.com/photos/maianer All images courtesy of Markus Reugels. Perfect Summer Bangle - StumbleUpon. Here's a fun tutorial on how to make a message bangle that's one-of-a-kind, done in the sun, waterproof and weatherproof.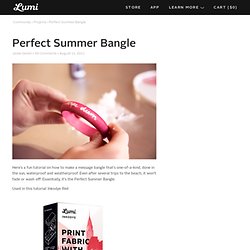 Even after several trips to the beach, it won't fade or wash off! Essentially, it's the Perfect Summer Bangle. Used in this tutorial: Inkodye Red. Do-it-Yourself DIY String Wedding Lanterns Yarn Chandeliers - StumbleUpon. Jessica of Wednesday Inc shows us how to make those gorgeous twine chandeliers from the inspiration shoot she shared with us this morning.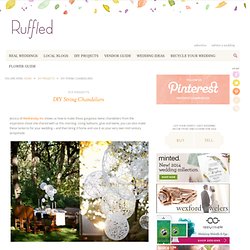 Using balloons, glue and twine, you can also make these lanterns for your wedding – and then bring it home and use it as your very own mid century lampshade. What you will need are: balloons, glue, yarn, tray for glue, corn starch 1/2 cup of Corn starch, 1/4 cup of Warm water, clear fast drying spray paint, hanging lamp cord or fishing line (depending on your desired final product), and a lighting kit if you're looking for a fully functional lantern. Falling Leaves Lamp : Daily source of DIY craft projects and inspiration, patterns, how-tos | Craftzine.com. Falling Leaves Lamp By Patricia Zapata Light and paper are always a good combination, and indirect lighting can be such a nice way to soften the feeling in a room.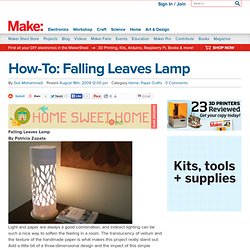 The translucency of vellum and the texture of the handmade paper is what makes this project really stand out. Add a little bit of a three-dimensional design and the impact of this simple project will be self-evident. The Technique Zone: Acrylic Paint Transfer - StumbleUpon. Supplies needed: Acrylic dabbers, photocopy of an image, water spritzer bottle, paintbrush, card stock, craft sheet and heat tool (optional) Take the lid off the dabbers and brush the paint onto the card stock, ensure you get a good coverage Take your photocopied image ( remember that you will get a reverse of the image, so don't use bold words), flip it over and place it in the acrylic.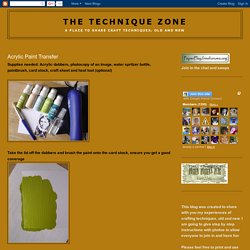 Lightly press it down making sure it's smooth and not wrinkled Leave to air dry for at least 15 minutes and then if you wish give it a blast with the heat tool. Song Lyric Wall Art / D.I.Y. Project - A Beautiful Mess - StumbleUpon. A couple weeks ago, I found a paint-by-number at an unbeatable price.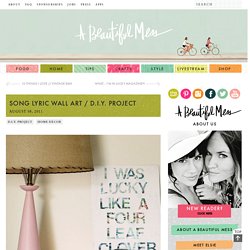 I can't pass these things up even though I already owned this particular design. I thought that I could maybe use it to make a fun D.I.Y., but my new rule is that all thrifts that I purchase with the intent of restyling need to get done right away. Most favorited all-time | craftgawker - StumbleUpon. You knew i was going to make one. - StumbleUpon. They are all over pinterest....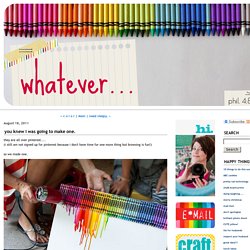 (i still am not signed up for pinterest because i don't have time for one more thing but browsing is fun!) So we made one. i took a box of 64 crayons and took out the blacks and browns.i used another small box and doubled up on the good colors i liked and hot glued them to the top of our canvas. - StumbleUpon. Ric stultz 2011 - StumbleUpon. "Chambord" - StumbleUpon.
---