HTML5
Unleash the power of HTML 5 Canvas for gaming - Eternal Coding. HTML 5 browsers and HTML 5 for Windows 8 Metro are now serious candidates for developing modern games.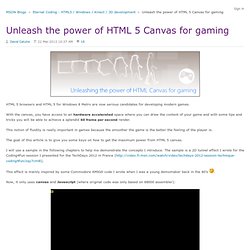 With the canvas, you have access to an hardware accelerated space where you can draw the content of your game and with some tips and tricks you will be able to achieve a splendid 60 frame per second render. This notion of fluidity is really important in games because the smoother the game is the better the feeling of the player is. The goal of this article is to give you some keys on how to get the maximum power from HTML 5 canvas. I will use a sample in the following chapters to help me demonstrate the concepts I introduce. The sample is a 2D tunnel effect I wrote for the Coding4Fun session I presented for the TechDays 2012 in France ( HTML5 enabling script. 7 Jan Since HTML5 is getting more attention by way of marking up our new pages, and the only way to get IE to acknowledge the new elements, such as <article>, is to use the HTML5 shiv, I've quickly put together a mini script that enables all the new elements.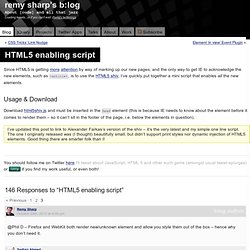 Download html5shiv.js and must be inserted in the head element (this is because IE needs to know about the element before it comes to render them – so it can't sit in the footer of the page, i.e. below the elements in question). I've updated this post to link to Alexander Farkas's version of the shiv – it's the very latest and my simple one line script. Jason N. Gaylord | Using HTML 5 Geolocation, Google Maps to Generate Driving Distance. HTML5 will introduce many new and exciting features including the addition of geolocation.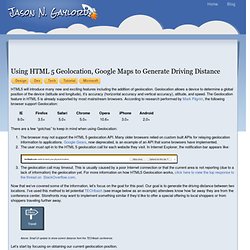 Geolocation allows a device to determine a global position of the device (latitude and longitude), it's accuracy (horizontal accuracy and vertical accuracy), altitude, and speed. The Geolocation feature in HTML 5 is already supported by most mainstream browsers. According to research performed by Mark Pilgrim, the following browser support Geolocation: Creating a HTML5 & CSS3 Single Page Web Layout. Creating a HTML5 & CSS3 single page template Today we will create HTML5 web template with combination with CSS3 and jQuery.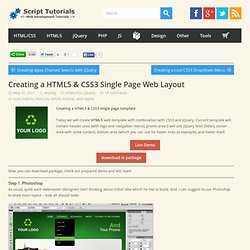 Current template will contain header area (with logo and navigation menu), promo area (I will use jQuery Nivo Slider), center area with some content, bottom area (which you can use for footer links as example), and footer itself. Live Demo. 6 Things I Learned About Print Stylesheets From HTML5 Boilerplate. Print stylesheets can be a pain if you don't know what you're doing.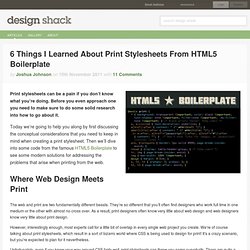 Before you even approach one you need to make sure to do some solid research into how to go about it. Today we're going to help you along by first discussing the conceptual considerations that you need to keep in mind when creating a print stylesheet. 10 Fresh HTML5 Tutorials. 10 Great HTML5 tutorials I selected some fresh great and amazing html5 tutorials for developers who going to learn html5 or who going to find new ideas for own projects.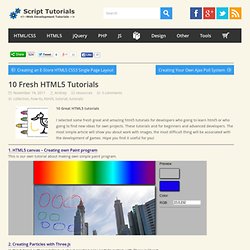 These tutorials and for beginners and advanced developers. Nested figures. Back to article.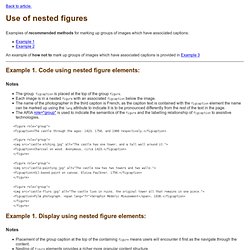 Examples of recommended methods for marking up groups of images which have associated captions: An example of how not to mark up groups of images which have associated captions is provided in Example 3. 28 HTML5 Features, Tips, and Techniques you Must Know | Nettuts. HTML5 Rocks - A resource for open web HTML5 developers. 10 Image Hover Effect Tutorials Using jQuery CSS & HTML5. 'Hover' is an effect that occurs when you place the cursor over a link of any kind.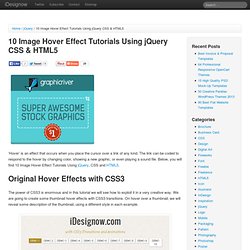 The link can be coded to respond to the hover by changing color, showing a new graphic, or even playing a sound file. Below, you will find 10 Image Hover Effect Tutorials Using jQuery, CSS and HTML5. The power of CSS3 is enormous and in this tutorial we will see how to exploit it in a very creative way. We are going to create some thumbnail hover effects with CSS3 transitions. 10 HTML5 File Upload with jQuery Example. Html5 and jQuery can design to upload multiple files with drag and drop file interface which is one easy for user to control upload photo or other files extension.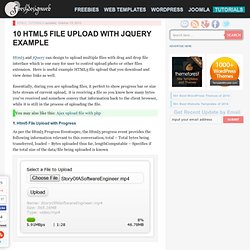 Here is useful example HTML5 file upload that you download and view demo links as well. Essentially, during you are uploading files, it perfect to show progress bar or size byte stream of current upload, it is receiving a file so you know how many bytes you've received and somehow convey that information back to the client browser, while it is still in the process of uploading the file. You may also like this: Ajax upload file with php. Top HTML5 Media Players For Your Next Website Project. The HTML5 Video Player Advantage//+ HTML5 Video Tag The <video> tag is basically a new tag introduced in HTML5 that allows you to embed video in a web page without having to use Flash or any other embeddable plugin, but instead use a player which is built into the browser.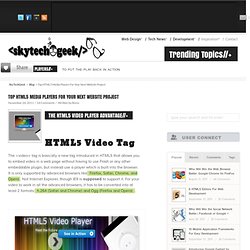 It is only supported by advanced browsers like Firefox, Safari, Chrome, and Opera. Not Internet Explorer, though IE9 is supposed to support it. Things to keep in mind when working with Websockets. HTML5 has some extremely cool features, and a couple of weeks ago I took a deep dive into Websockets. This protocol, which you can recognize by the and (secure websockets) URL prefix, enables "Server side push events".
During my deep dive, I learned a couple of things that are pretty interesting. Reverse Ordered Lists in HTML5. With all the hype surrounding the new APIs and the fancy parts of CSS3, I had almost forgotten about the new reversed attribute that allows you to write a descending list of numbered items, as opposed to the default ascending list of numbered items. You can get full details in the specification, but here I'll summarize what it does and I'll offer a solution for the fact that there is (from what I can see) no browser support for this attribute. Summary of the "reversed" Attribute. Mobile HTML5 - compatibility tables for iPhone, Android, BlackBerry, Symbian, iPad and other mobile devices.
25 Useful Html5 Cheat Sheets and Tutorials For Web Developer. A web designer has to use HTML 5 a lot while designing as it can be used to create a variety of things like a web design, web design features, flash, JQUERY, and some supporters of other web apps. Working with HTML 5 is a bit complicated, so everyone always welcome any help one can get to ease the work. Many tutorials and tips are available out there that can help you get familiar with HTML applications.
Retour sur HTML5 : De la page web à l'application web. The Script Tag. I got a great question from reader Josh Kreis: I've noticed that on a <script> tag, there are all kinds of variations that all seem to work cross-browser. What is necessary and what isn't? <script> //some javascript here </script><script type="text/javascript"> //some javascript here </script><script type="text/javascript" language="javascript"> //some javascript here </script><script language="javascript"> //some javascript here </script><script type="text/javascript"> //<! [CDATA[ // some javascript here //]]></script> This is the scoop as far as I understand it. Testez et débuggez vos sites HTML5 sous Windows Phone 7 avec l'émulateur gratuit. Les internautes arrivent de plus en plus souvent sur vos sites web depuis un périphérique mobile.
Il est donc de plus en plus important de leur offrir une bonne expérience sur le navigateur embarqué. Vous ne pouvez plus vous permettre d'ignorer cette population en leur offrant une version trop dégradée. Dans notre cas, depuis la mise à jour nommée "Mango", Internet Explorer 9 est arrivé sur Windows Phone. Vous pouvez donc lui fournir du HTML5, CSS3 Media Queries & co pour créer une bonne expérience. 10 things every web developer, designer (and manager) should know about HTML5. HTML5 Form Input Enhancements: Form Validation, CSS3, and JavaScript. Lists of HTML5 Articles, Tools, Templates and Tutorials.
HTML5 Cheat Sheets. Html5shiv - HTML5 IE enabling script. When can I use... Support tables for HTML5, CSS3, etc. HTML KickStart - Ultra–Lean HTML Building Blocks for Rapid Website Production - KickStart your Website Production - 99Lime.com. HTML5 Presentations To Help You Get Started with HTML 5. HTML5 Boilerplate - A rock-solid default template for HTML5 awesome. HTML5 : Nouveaux éléments de section, article, header, footer, aside, nav. HTML5 Please - Use the new and shiny responsibly.
The developer's guide to the HTML5 APIs. Canvas tutorial. HTML5 Security Resources Repository. 9 Sites for Diving Head-First Into HTML5.
---