Art, Code and Graphic Design
VJ Software and Mapping 3D Tutorial. SgHome. Ward Shelley Homepage. FFFFOUND! Vadim Ogievetsky. Mgmt. design. Collections and Classrooms. [kuh-lek-shuhn]: a group of objects or an amount of material accumulated in one location.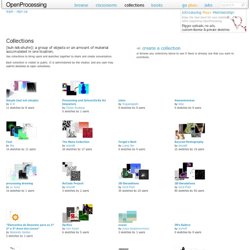 Use collections to bring users and sketches together to share and create conversation. Each collection is visible to public. It is administered by the creator, and any user may submit sketches to open collections. M O T H I. Public Art Concepts - Dan Sternof Beyer 2011. MALIN KOORT. A visual exploration on mapping complex networks.
0834319513. Stillspotting nyc.
---