Personal branding
Bloggers and (Personal) Brand-Building. eMarketer estimates nearly 28 million US Internet users write a blog in 2009, and those bloggers run the gamut from hobbyists and part-timers to self-employed and corporate bloggers.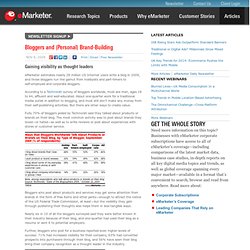 According to a Technorati survey of bloggers worldwide, most are men, ages 18 to 44, affluent and well-educated. About one-quarter work for a traditional media outlet in addition to blogging, and most still don't make any money from their self-publishing activities. Personal Branding Blog - Dan Schawbel. Oprah Winfrey and Your Leadership Brand - John Baldoni - Harvard. By John Baldoni | 9:37 AM November 25, 2009 All leaders have a brand. Whether that term is used or not, leaders have an identifiable persona that is a reflection of what they do and how others perceive them. I call this the leadership brand. When it comes to cultivating a leadership brand, look no further than Oprah Winfrey, who recently announced that she would be ending her popular talk show in 2011. In a perceptive analysis, New York Times media columnist David Carr suggests that Winfrey's brand and the key to her longevity is a combination of things she didn't do as well as things that she did do. Dan Schawbel - Personal Branding Expert. Dossier : E-réputation. (c) www.darksidevoices.com Dossier spécial e-réputation sur Marketing-Professionnel.fr !
Lire la version 2012 de Veille et e-réputation La e-réputation en un coup d'œil. Le Personal Branding. Directory. How to brand you. Personal Branding: How to Brand You?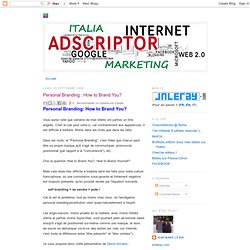 Vous aurez noté que certains de mes billets ont parfois un titre anglais. C'est le cas pour celui-ci, car contrairement aux apparences, il est difficile à traduire. Moins dans les mots que dans les faits.
---