Nouveau paradigme
Distance Learning Courses and Adult Education - The Open University. L'organisation apprenante ? La rêver ou l'agir ? | Carnet de Transition(s) Sur le blog de Mariette Strub-Delain, un article de 2005 faisant une comparaison entre l'organisation traditionnelle et l'organisation apprenante Vision : Déclarée par le dirigeantStratégie : RéactiveOrganisation : Pyramidale et hiérarchiqueStructure : Par métier, par produitOrientation :Tâches et contenuSystème de reconnaissance : Individuelle et basée sur les résultats, le mérite ou l'anciennetéMotivation : Extrinsèque Rôle du manager : Gestionnaire et contrôleurMode de relation (interne/externe) : De type donneur d'ordre et concurrentiel Pouvoir : Centralisé Valeurs : Devoir, obéissance, performance, …Communication : Principalement descendanteApprentissage : Principalement individuel et dans le cadre de formations (présentiel, e-learning)Relation au Savoir et aux savoirs faire : Utilisation opérationnelle et accès limité.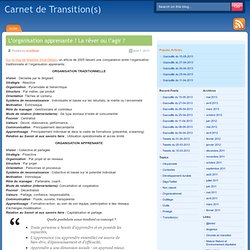 The 8 Elements of Contagious Ideas. In the research I've been doing over the past few years into why ideas spread, I've found a few common characteristics of contagious ideas across mediums and centuries.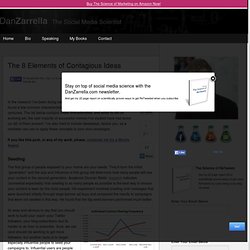 The list below contains those characteristics, and while its still an evolving set, the vast majority of successful memes I've studied have had some (or all) of them present. I've also tried to include takeaways, tactics you, as a marketer can use to apply these concepts to your viral campaigns.
Leadership
Episode 27: Mindful Leadership | Up Close Podcast. Download mp3 (18.1 MB) VOICEOVER Welcome to Melbourne University Up Close, a fortnightly podcast of research, personalities, and cultural offerings of the University of Melbourne, Australia.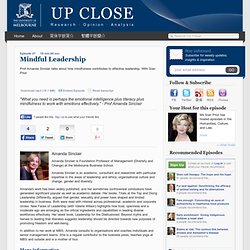 Up Close is available on the web at upclose.unimelb.edu.au That! |s upclose.u-n-i-m-e-l-b.edu.au. SIAN PRIOR Hello and welcome to Up Close, coming to you from Melbourne University, Australia. I! Douglas Rushkoff, "Radical Abundance: COMMUNICATION (complexité) : un album.
---