Garlands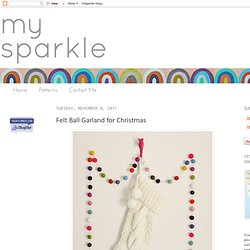 Felt Ball Garland for Christmas
I meant to make a felt ball garland last Christmas but it seems lots of other folks had the same idea, because by the time I got around to ordering my supplies, they were super back-ordered so they ended up coming after Christmas. Which is perfect because I often buy things for Holidays and don't get around to making them until the next year anyway. So here it is next year... and since I already had all the supplies, I've made it! And though I haven't actually started decorating yet (though I have picked up a few festive things from Ikea already), I thought I'd share it in case you'd like to make one too, you'll have time to do it this year! Making a garland is easy as pie (can you thread a needle?).
Hello bloggy friends! Did you have a nice weekend (or extended weekend for those of you celebrating Thanksgiving)? My daughter and I had a great time with our family and now that Christmas is less than a month a way I'm ready to jump into a bunch of holiday craft projects…how about you?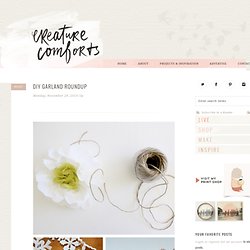 DIY Garland Roundup
DIY 5 Minute Tinsel Garland Wreath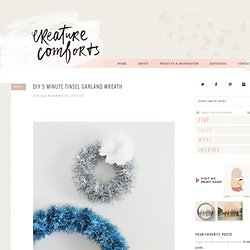 A few Winters ago I was staring at a bland paper bag full of old embroidery hoops that I had picked up at the thrift store months before for a few quarters, when it occurred to me that they would make perfect wreath frames. I quickly nixed the idea of wiring greenery to them (too lengthy of a project and they would only last for a short while) and then thought of the tinsel garland I had wound up the stair banister the previous day. Perfect! What I didn't know then, was just how simple this project would turn out to be.
November 25th, 2013 Email 355 users recommend Say goodbye to hand-cut snowflakes taped to windows. Instead, try a curtain of whimsical flakes hung on strands of dental floss.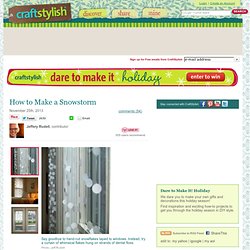 November 30th, 2012 Email 337 users recommend This week I take up the old reliable paper garland of my elementary school days but with a twist: Bands of paper glued end-to-end become rings of paper glued edge-to-edge.
How to Make a Garland with Punch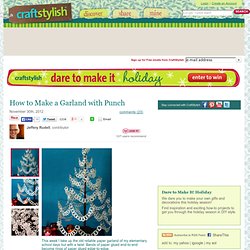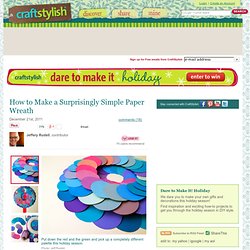 How to Make a Surprisingly Simple Paper Wreath
December 21st, 2011 Email 70 users recommend
SPRING WREATH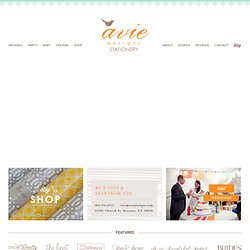 I know, I know, it's still winter and there is no end in sight. But that doesn't mean that it can't be spring in your home. I think we should all start to get ready for the transition because I can't stand the thought of winter any longer. Supplies: cardboard at least 7"x7"rulerpenknifeleaf punchdifferent papersglue gunglue stickribbontweezers
This bright and modern mobile project is perfect for a daytime wedding reception or shower and can be done in any color scheme. It will transform the room and make a big impact! The best part is this whole project can be made on the cheap--for under $25!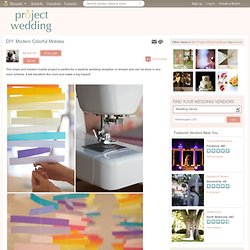 DIY: Modern Colorful Mobiles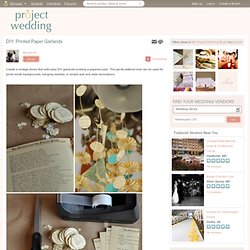 DIY: Printed Paper Garlands
Create a vintage library feel with easy DIY garlands evoking a papered past. This gently tattered look can be used for photo booth backgrounds, hanging mobiles, or simple wall and aisle decorations. Materials: I got a few comments on this spring table post from readers asking how to make the paper flower decor. I've put together a detailed tutorial showing lots of different paper flower variations, all using the same (quick and easy) technique. It's really very simple and you don't need to be particularly talented or buy lots of supplies. You probably have everything you need at home right now. For making these flowers you need:- silk paper or any other thin paper sheets- nylon string and/or some tape- scissors- cocktail sticks (for the centerpiece flowers)- optionally a bit of paper glue
flowers and decor
Elegant White, Cream, And Gold Wreath
I'm sure you have all seen my two friends wreath from The Pretty Poppy. Can you believe I am lucky enough to know them in real life? I do, they are as great as they seem! Well I loved it, just as much as you all did. So I created my own. But I changed it up a little because Heidi and I can't have the same wreath hanging in our house.
DIY Projects: Button Brunch!
As we wrap up the fun shoot we did with Wedding Chicks, I thought it would be fun to highlight the few DIY projects that happened to create some of the fun details for the tablescape. The button garland was certainly a labor of love, but worth every minute of it. It's hard to envision this garland simply by the photos alone. In person, the button garland really made the space fun and unique! We ordered lots of various buttons off etsy, and found several others at Michael's.
Zig zag accordion streamers in Crafts for decorating and home decor
Zig Zag Accordion Streamers DIY
Mar 23 I made these cool zigzag streamers for Paul's birthday last week but I forgot to take photos so I made Moses put on a hat and pose during Roman's nap time today. My mom taught me how to make these and they are about the easiest party decor there is. All you need is colored paper and pair of scissors.
May Guest DT plus a paper garland tutorial - Screen Prints BLOG
a beautiful life is in the accents: Tutorial: hot air balloon mobile
DIY Wedding Pom Poms | DIY Wedding Blog
Paper cube lights in Crafts for decorating and home decor