Coding i apple apps 5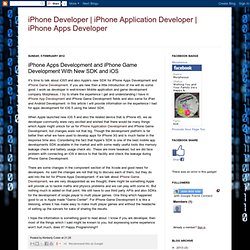 iPhone Apps Development and iPhone Game Development With New SDK and iOS
It's time to talk about iOS5 and also Apple's new SDK for iPhone Apps Development and iPhone Game Development. If you are new then a little introduction of me will do some good. I work as developer in well-known Mobile application and game development company Morpheous. I try to share the experience I get and understanding I have in iPhone App Development and iPhone Game Development fields and also same for iPad and Android Development. In this article I will provide information on the experience I had for apps development for iOS 5 using the latest SDK.
Every smartphone game developer is always on hunt for ideas to build a next winning game for iPhone and iPad. While there are strategies or formula's for building a successful game/app, there are plenty of other things that can be and must be done for a product's success. There are hundreds of good games and apps out there on the Appstore, which have not fared well. Despite great graphics and gameplay, the games lack marketing. Intense marketing does effect on the sales of any product.
iPhone app developer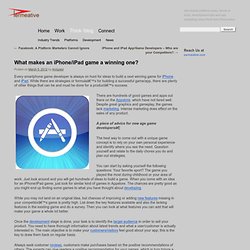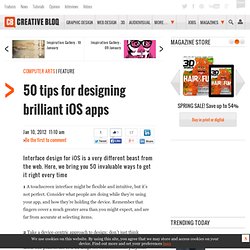 Interface design for iOS is a very different beast from the web.
50 tips for designing brilliant iOS apps | Feature | Computer Arts
How to make an iPhone app or die trying
Are you sitting comfortably? Then I'll begin. This is a story about two people who joined the iPhone app goldrush and attempted to make a million dollars from a game called Twitch Origins.
Designing Apps for Kids
With the experience of having built ABCKit and many hours of testing different apps for kids behind us, we have noticed some recurring app design problems. For those working in this field, we would like to share some suggestions for designing and devising apps for children to help ensure the apps are correctly used by preventing some common design issues. If you've interacted with preschoolers (ages two to five), you're aware that they do not quite grasp the concept of patience, especially when it comes to digital devices. A splash screen that takes more than ten seconds to load will give rise to comments from kids such as, "Mommy, it doesn't work."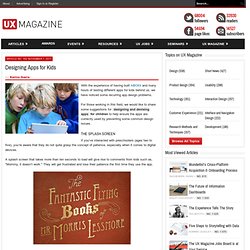 L'Escapadou Blog - iPhone/iPad Educational and Fun Apps for Kids: How I've Made $200k in the iOS Education Market - Figures & My 1st Year as an Indie Dev
$200k is not bad considering I've made $90k since August 2011 due to the success of Word Wizard, my second app, in English and French (you can see that the steep of the slope is much better once the app has been released). So now let's see some details about 4 apps, the most important ones (more of 90% of the income - see below for others apps). Note that all my apps are universal (iPad+iPhone) I am French, so I logically decided to release a French version of Montessori Crosswords.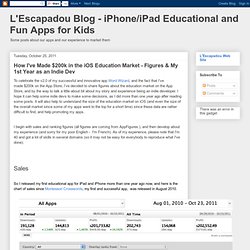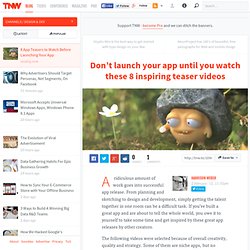 A ridiculous amount of work goes into successful app release. From planning and sketching to design and development, simply getting the talent together in one room can be a difficult task. If you've built a great app and are about to tell the whole world, you owe it to yourself to take some time and get inspired by these great app releases by other creators. The following videos were selected because of overall creativity, quality and strategy. Some of them are niche apps, but no matter what, these 8 promo videos do a wonderful job grabbing attention.
8 App Teasers to Watch Before Launching Your App
how to create apps for iPhone
Posted: January 14th, 2012 | Author: Kent Nguyen | Filed under: iOS | Tags: coding style, css, function, html, php | 17 Comments » A dedication to the high-level programmers After almost a year learning Objective C and iOS programming, now I can say that I understand most of the materials available in StackOverflow and there is rarely any question that I don't know *how* to look for the answer.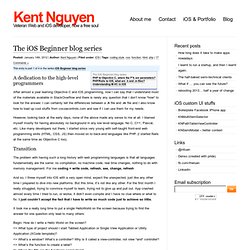 iOS Beginner blog series by Kent Nguyen, developer of Denso App
If you'd like to learn how to use Adobe's Creative Suite tools to easily and portably create websites and apps for tablets, smartphones, and mobile devices there's a new 2¼-hour course you'll be interested in… Guru Paul Trani teaches an extensive free class with 18 video chapters that will take you step-by-step on how to create portable content that will run on both Apple iOS and Google Android devices with a wide variety of screen sizes using a single code base. Basic usage of HTML5 and CSS3 is covered, as well as how to bring in Adobe's recent additions PhoneGap (for building fast, cross-platform mobile applica­tions) and Typekit (for delivering custom web fonts). The first half of the video series employs Adobe Dreamweaver CS5.5 to develop both websites and apps, with steps on how to convert a website into a portable mobile app.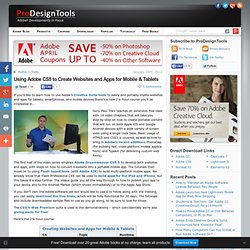 Using Adobe CS5 to Create Websites and Apps for Mobile & Tablets
Appillionaires author Chris Stevens on apps success and Apple's e-book plans | Technology
App success and failure?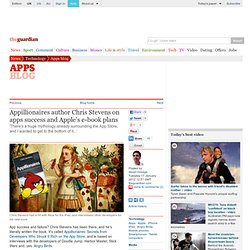 Graphic designers, web masters and web designers are busy people who would spend most of their time facing their computers in order to do some work or monitor their sites. There is always tons of work to do every day in order to make sure that things will be okay. With the long list of things to do, it would be a big help to have some iPad applications to aid you to be more productive in your work and be able to manage your work well. Even if you are not in your workplace, you will still be able to do some tasks and not waste your time by using certain iPad apps.
40 Helpful iPad Apps for Productivity and Project Management
Program Allows Users to Create Own Apps in Seconds A new mobile app launched today will go where no other has gone before by allowing users to create their own apps quickly and easily. Appatista gives users the power to create their own mobile apps in less than a minute, even if they have no prior programming experience. It is currently available in the App Store for the iPhone, iPad and iPod Touch.
Program Allows Users to Create Own Apps in Seconds - JAKBEAS
Apposing's Dave Brown reveals how to prototype a user interface for an iPad app in Photoshop. Software: Photoshop CS4 or later Project time: 3 hours Skills: Work with grid structures, wireframe for iPad, focus on UI/UX design, use Photoshop's Marquee and masking tools Download the support file here In this walkthrough we'll create two basic user interfaces for an iPad app and develop them to a prototyping level.
Design an iPad app UI
Posted by Rampant Coyote on January 12, 2012 Post-Mortems on indie games always seem more interesting to me than post-mortems on big-studio games. It may be because they are just less conventional overall, or that the post-mortems I read of mainstream games usually conform to the Game Developer Magazine "5 things that went right / 5 things that went wrong" formula. I dunno. I really enjoyed Sophie Houlden's post-mortem of Switft*Stitch, and the things that really hit home for me were the following comments: "Swift*Stitch is my first finished commercial game, and probably the only game I've spent more than a couple of months on that has actually been finished.
Ten Tips for Becoming an Indie Game Developer
Explosive Growth in Education Apps
Digital Tools Teaching Strategies Flickr:Flickingerbrad By Carly Shuler, Joan Ganz Cooney Center In 2007, when the iPhone made its debut, there was little doubt that it would revolutionize the mobile phone industry. But at the time, few imagined that it would spawn a multibillion-­dollar market for mobile applications, and fewer imagined that this market might become a significant one for children. Less than five years later, more than a quarter of all parents have downloaded apps for their children to use, according to a Common Sense Media study.
Beginner's Guide to iOS Development: Building Your First App – Part II
How to make iOS/Android games on a PC – for free • Andy Moore
How To Make Money With iPhone Apps
How to Submit Your App to Apple: From No Account to App Store, Part 1