Coding i apple apps 3
Money and the App Store: A few figures that might help an indie developer. [In this reprinted article from The Game Bakers' official blog, indie developer and Game Bakers co-founder Emeric Thoa looks at trends and sales data from the iTunes App Store to dispel some myths about indie development on iOS.]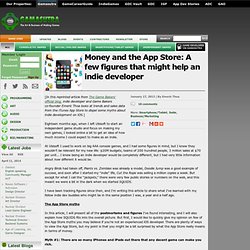 Eighteen months ago, when I left Ubisoft to start an independent game studio and focus on making my own games, I looked online a bit to get an idea of how much income I could expect to make as an indie. At Ubisoft I used to work on big AAA console games, and I had some figures in mind, but I knew they wouldn't be relevant for my new life: $20M budgets, teams of 200 hundred people, 3 million sales at $70 per unit... I knew being an indie developer would be completely different, but I had very little information about how different it would be.
How to Submit Your App to Apple: From No Account to App Store, Part 1. This post is also available in: Japanese This is a blog post by iOS Tutorial Team member Gustavo Ambrozio, a software engineer with over 20 years experience, including over three years of iOS experience. He is the founder of CodeCrop Software. You can also find him on Google+. Getting Started Building iPhone Apps in Xcode 4.2. The newest version of Xcode comes packaged with a few noticeable interface changes.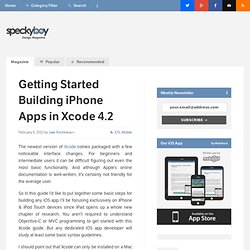 For beginners and intermediate users it can be difficult figuring out even the most basic functionality. And although Apple's online documentation is well-written, it's certainly not friendly for the average user. So in this guide I'd like to put together some basic steps for building any iOS app. I'll be focusing exclusively on iPhone & iPod Touch devices since iPad opens up a whole new chapter of research. How to Hire an iPhone App Developer. Not all developers are created equally.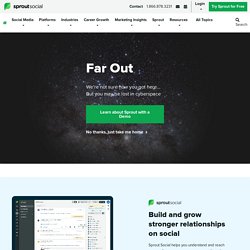 As the number of mobile devices in use expands, the skill sets of application developers can vary from device to device and from project to project. It's also important to note that not all apps are created equally either, even when you're hiring someone with specific experience in iPhone app development. It all boils down to the type of app you want to produce.
How to Market & Promote iPhone, iPad & Android Apps (Part 1) Steve Hoffman by Steve Hoffman, Creator of Yumby After doing extensive research and interviewing industry experts, I've compiled a list of what you need to do to launch and market a successful mobile app on the iPhone, iPad and Android.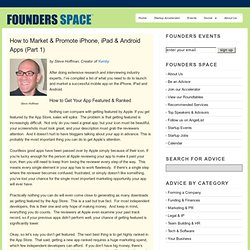 How to Get Your App Featured & Ranked Nothing can compare with getting featured by Apple. iPhone 4 Development – Book Review. Hey Every so often I have a really cool book to review, today's book is Beginning iPhone 4 Development for iOS 4 (iOS 5 version here) by apress.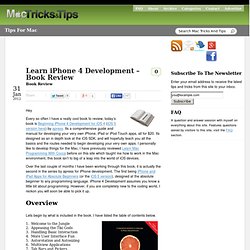 Its a comprehensive guide and manual for developing your very own iPhone, iPad or iPod Touch apps, all for $20. Learn to code iOS apps and build games using Cocos2D with this bundle. People have a love affair with their iPhones.
And why shouldn't they? The iPhone just works, doesn't it? Plus, there are so many cool apps and games in the App Store made by clever developers! Then again, there are still plenty of ideas out there that need to be brought to life. A Concise Guide to get an App into the Apple App Store. We at On the GoWARE are asked this question all the time.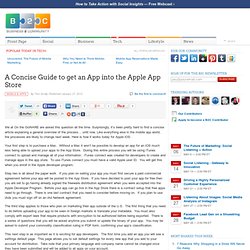 Surprisingly, it's been pretty hard to find a concise article explaining a general overview of the process… until now. Like everything else in the mobile app world, the processes are likely to change next week. 8 Things You Should Know Before Building a Mobile App. Seth Porges is a magazine editor and the creator of Cloth, an iOS fashion app for iPhone and iPod Touch.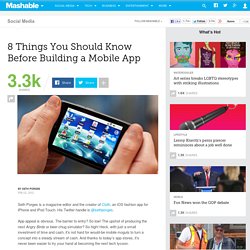 His Twitter handle is @sethporges. App appeal is obvious. How to Submit Your App to Apple: From No Account to App Store, Part 2. This post is also available in: Japanese This is a blog post by iOS Tutorial Team member Gustavo Ambrozio, a software engineer with over 20 years experience, including over three years of iOS experience.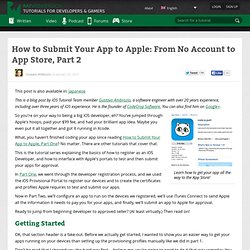 He is the founder of CodeCrop Software. You can also find him on Google+. Learn how to get your app all the way to the App Store! So you're on your way to being a big iOS developer, eh? Plan, Launch and Market Your Killer iPhone App Like a Pro [Deals.CultofMac. It seems as if everyone and their uncle are building iPhone apps these days. As a result, the competition is getting fiercer and fiercer by the day, and it's becoming tougher to stand out amongst the crowd. That said, there are a ton of apps that just don't "cut the mustard" and the user experience suffers because of that lack of care and quality. Easily create iOS apps with CodeStore's updated template app projects. Chichester, United Kingdom – CodeStore has announced the availability of an updated iOS app templates Story Book App v1.3, and Comic Book App v1.2. The iOS app template projects are a quick and easy way to create an interactive book-style app, without the need to learn software development.
The easy to use templates load your pages in JPEG format, and output native iPad or iPhone apps, ready for the App Store. Designing a Custom iPhone App Navigation Bar. Get the FlatPix UI Kit for only $7 - Learn More or Buy Now App development for iPhone and iPod Touch has become a booming industry. Designers from all over the world are jumping at the chance to have their ideas published into the App Store. How to build native-looking apps for iOS using HTML. Lately, I've been messing around with cool HTML5 stuff a lot. One of the things that HTML5 is trying to reach, is the market of . A long time ago (when I got my first iPhone), I wrote an article on how to add a webclip for easy access to your website. But since then, I've learned a couple of more things on .
I've created a template/boilerplate that you can use for your next project to create native looking apps for iOS (more specifically: Mobile Safari ) using nothing but HTML. Simply build your website starting with this template, bookmark it and you're done. Getting Started as an iOS Developer. It seems everyone has an idea for an app, be it a game, a booklet, a coffee app – the world isn't short on people who have an idea for an iPhone or iPad app but simply have no idea where to start. As much as they'd love to make their idea a reality, they can't because they simply have no idea where to get started.
The world of iOS development, even to the seasoned developer, can be daunting and somewhat overwhelming and the purpose of this article is to introduce the reader in a less intimidating way. First things first, this article assumes you have no knowledge of how to become and iPhone or iPad developer and assumes you also have no programming knowledge (though some programming knowledge would be a bonus) – if you fall into that somewhat vague criteria and want to get an app from a bundle inside your head to working app on the App Store, this article is indeed for you! 20 things every mobile developer should know. Book Creator | The simple way to create beautiful books on the iPad.
How To Become An App Store Millionaire 2012? | Todays Blog Mobile. iOS Developers Take Home $700 Million in Q1. How I Used Airbnb to Fund a Hit iPhone App. iPhone app developer. Non-Developer's iPhone App: From Idea to App Store | IAmDann. Xcode.
---