Robotics
Hal, the new Robotsuit
Last updated: 10/27/2011* Raytheon's second-generation exoskeleton (XOS 2), essentially a wearable robotics suit, has been named one of the Best Inventions of 2010 by Time Magazine . The suit was unveiled for the first time in September during an event at the company's Salt Lake City research facility.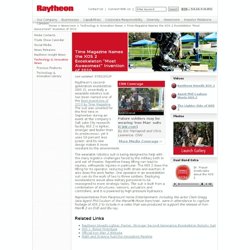 Company: Time Magazine Names the XOS 2 Exoskeleton "Most Awesomest" Invention of 2010
Associated Fabrication -- CNC Milling
This fall, Robots in Architecture teamed up with Absolut Vodka (Pernod Ricard Austria) to create a unique robot installation for their new "Absolut Originality" limited edition vodka series. Taking inspiration from traditional Swedish glass crafts, every bottle of Absolut Originality has a drop of cobalt blue infused into its glass. This colouring technique has been used for centuries in hand-made art glass, but never before has it been applied to create four million original bottles. Added just as the molten glass goes into the mould at 1100°C, the drop of cobalt blue streams down inside the glass creating a unique streak of blue. At that temperature the cobalt is invisible, but as the glass cools off, a beautiful and unique blue infusion appears.Source: Absolut Our goal was to create unique T-shirts based on portraits of their owners-to-be via robotic spraypainting.