Pies
Gluten Free Cherry Tassies | Simply Gluten Free by Carol Kicinski
once upon a time
Buttermilk Pie Recipe : Emeril Lagasse
I've mentioned my friend Clara several times. She's a gem of a friend who shares my random sense of humor, and my new love of almond flour! I cannot sing the praises of this wonderful, naturally gluten free flour enough. I'm tempted to turn into Elana of Elana's Pantry, who uses almond or other nut flours exclusively in her cooking and baking. She's a genius!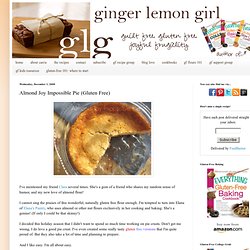 Almond Joy Impossible Pie (Gluten Free)
Is it pumpkin pie?
I have not shared many stories about the almost six years I worked for the Alzheimer Society, and I'm sure more will leak out as time moves on. My time there had many challenges but there were also blessings. One of the greatest of these blessings was Janice. I rented my office space in the back of her trophy business.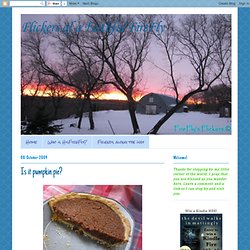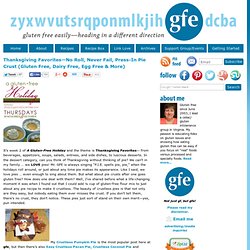 It's week 2 of A Gluten-Free Holiday and the theme is Thanksgiving Favorites— from beverages, appetizers, soups, salads, entrees, and side dishes, to luscious desserts. In the dessert category, can you think of Thanksgiving without thinking of pie? We can't in my family … we LOVE pies! Mr. GFE is always singing "P.I.E. spells pie, pie," when the holidays roll around, or just about any time pie makes its appearance. Like I said, we love pies … even enough to sing about them.
Thanksgiving Favorites—No Roll, Never Fail, Press-In Pie Crust (Gluten Free, Dairy Free, Egg Free & More)
gluten-free pie crust
Free Pumpkin Pie with Praline and Coconut-Pecan Crust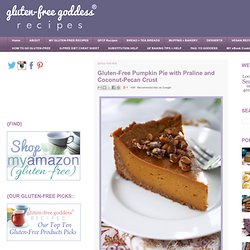 Happy October! Good Goddess, I've been busy. Making a delicious mess in my tiny kitchen. Developing new gluten-free dairy-free dessert recipes for the Winter Food Issue of Allergic Living magazine.