Pies
Gluten Free Cherry Tassies | Simply Gluten Free by Carol Kicinski
once upon a time
Crustless Fudge Pie—The Clark Kent of Pies « Glugle Gluten-Free
Ingredients 1 1/2 cups granulated sugar 1 tablespoon flour 1 tablespoon grated lemon zest 4 large eggs 1 cup buttermilk 1 stick butter, melted 1 unbaked 10-inch basic pie crust shell Directions Preheat the oven to 350 degrees F.
Buttermilk Pie Recipe : Emeril Lagasse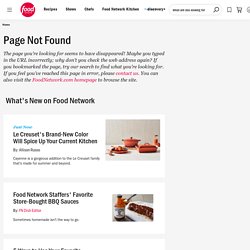 I've mentioned my friend Clara several times. She's a gem of a friend who shares my random sense of humor, and my new love of almond flour! I cannot sing the praises of this wonderful, naturally gluten free flour enough. I'm tempted to turn into Elana of Elana's Pantry , who uses almond or other nut flours exclusively in her cooking and baking. She's a genius!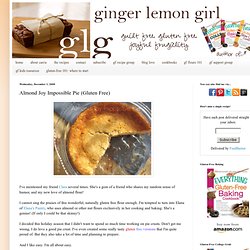 Almond Joy Impossible Pie (Gluten Free)
Is it pumpkin pie?
I have not shared many stories about the almost six years I worked for the Alzheimer Society, and I'm sure more will leak out as time moves on. My time there had many challenges but there were also blessings. One of the greatest of these blessings was Janice. I rented my office space in the back of her trophy business.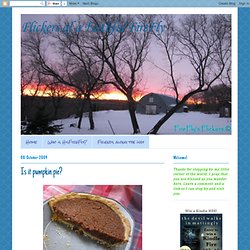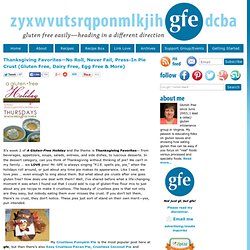 Full disclosure: The cookbooks for this giveaway were graciously provided by the cookbook authors. However, opinions expressed in this post regarding these cookbooks are strictly my own. This post is linked to Food on Fridays , Foodie Friday , and Gluten-Free Wednesdays . UPDATE: This giveaway is now closed. Thanks so much for participating! Head on over to Alta's ( Tasty Eats at Home ) for a listing of the winners of Kelly Brozyna's The Spunky Coconut Cookbook and Stephanie O'Dea's Make It Fast, Cook It Slow cookbook and this week's Gluten-Free Holiday event— Gifts of Good Taste .
Thanksgiving Favorites—No Roll, Never Fail, Press-In Pie Crust (Gluten Free, Dairy Free, Egg Free & More)
gluten-free pie crust
Free Pumpkin Pie with Praline and Coconut-Pecan Crust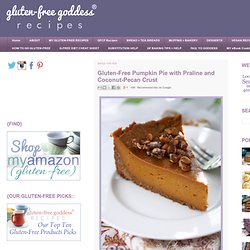 Happy October! Good Goddess, I've been busy. Making a delicious mess in my tiny kitchen. Developing new gluten-free dairy-free dessert recipes for the Winter Food Issue of Allergic Living magazine .