Paper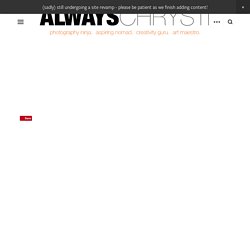 Photo Used Under a Creative Commons License - Copyright © Limonada Photo Used Under a Creative Commons License - Copyright © Limonada Lost in a stack of magazine piles? Does your periodical collection make you a nominee for the tv show Hoarders? Love the eco-chic look?
How to fold a single piece of paper into a handy cd case
Inspiration: Origami Cranes |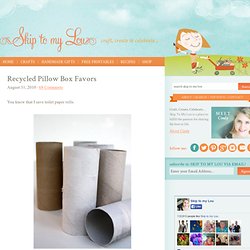 You know that I save toilet paper rolls. They can be made into so many things — mummies , rockets , Uncle Sam hats , flower party favors ………………. even cute pillow boxes perfect for a little favor! Fold in one side of the end.
If you have a small budget for your wedding, one major way to cut expenses is to DIY! Today I've rounded up a group of super fun DIY projects that would make for some FABULOUS wedding stationery! 1. Stamped Celery Flowers – These floral stamps made with celery are unbelievable! Who would have thought that this healthy snack could be used to make stationery? Certainly not me!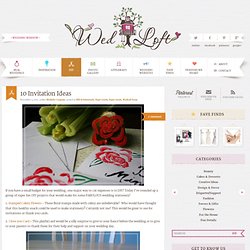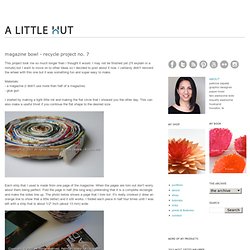 This project took me so much longer than I thought it would. I may not be finished yet (I'll explain in a minute) but I want to move on to other ideas so I decided to post about it now. I certainly didn't reinvent the wheel with this one but it was something fun and super easy to make. Materials: - a magazine (I didn't use more than half of a magazine) - glue gun I started by making a tight little roll and making the flat circle that I showed you the other day. This can also make a useful trivet if you continue the flat shape to the desired size.
How-To Make Recycled Paper Beads, Threadbanger
Most of us have a little stash of leftover decorative papers from projects and parties. But before you put your scraps in the recycling bin, take a look at what you can do with them. These colourful beads can be made from any paper – junk mail, magazine pages, used giftwrap or leftover stationery papers – and they're so easy, you and the kids can whip them up by the dozen. Paper beads Gather your supplies Paper; ruler and pencil; scissors; wooden skewers; glue stick; disposable plates or plastic container; gloss spray varnish; leather cord, for stringing; necklace findings (2 silver leather clamps, 2 jump rings and a clasp per necklace); needle-nose pliers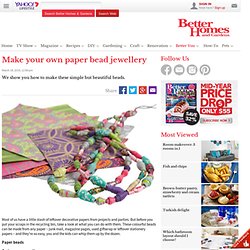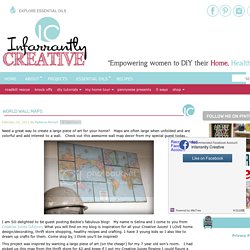 large map art
Need a great way to create a large piece of art for your home? Maps are often large when unfolded and are colorful and add interest to a wall. Check out this awesome wall map decor from my special guest today… I am SO delighted to be guest posting Beckie's fabulous blog! My name is Selina and I come to you from Creative Juices Décor .
I have always wanted to make my own pencils, but the thought of shaping two pieces of wood to allow a piece of lead to sit perfectly inside made me think it wasn't worth the effort. For some reason I was looking at some pieces of lead I have (for a drafting pencil) and "pop" there it was.. a solution to my DIY longing. Here is a tutorial to make pencils that is so ridiculously easy I've made 10 pencils since the idea came to me yesterday! Enjoy.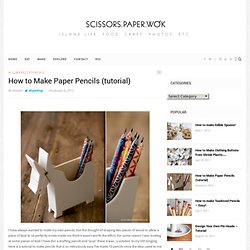 21 Paint Chip Craft Ideas | The New Home Ec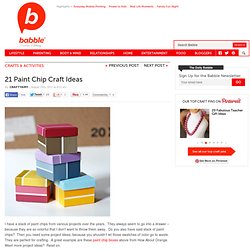 I have a stack of paint chips from various projects over the years. They always seem to go into a drawer – because they are so colorful that I don't want to throw them away. Do you also have said stack of paint chips? Then you need some project ideas, because you shouldn't let those swatches of color go to waste. They are perfect for crafting.