Toy Patterns
Pattern: Link's Hylian Shield, Sword and Sheath. Link was crocheted using an original pattern by Becchin, translated by Tanoshimou.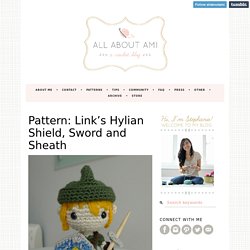 Check out the following links (haha, no pun intended) to help you make your own hero of Hyrule: Becchin's 'person core' page that Link is based on: he has great step-by-step photos (click here)Becchin's photos of Link as well as a very useful video showing the process (click here)Tanoshimou's translation of Becchin's pattern into English (click here)MY step-by-step blog post to see how I used the above resources to make this adorable Link (click here) I followed Tanoshimou's pattern except for the hat, as I found the pattern written out produced a hat that was far too big for Link.
I kept single crocheting 42 all the way around from rows 12-18, went counter-clockwise for row 15, and then went around clockwise for rows 16-18 (I did not take it past row 18). Now onto my pattern for Link's Hylian Shield, Sword, and Sheath! Link (Legend of Zelda) Amigurumi free pattern « Let's Enjoy~Tanoshimou!! On my journeys across the world of the web, I ran into a Japanese language pattern for the most adorable little Link I've ever seen!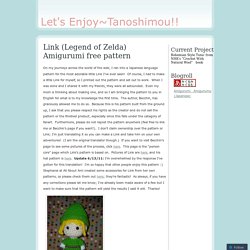 Of course, I had to make a little Link for myself, so I printed out the pattern and set out to work. When I was done and I shared it with my friends, they were all astounded. Brain Slugs. With Halloween fast approaching, I needed a subtle costume for me, and my faithful canine sidekick Raffi.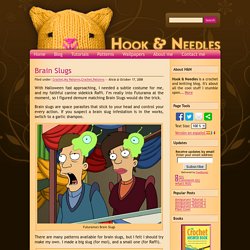 I'm really into Futurama at the moment, so I figured demure matching Brain Slugs would do the trick. Brain slugs are space parasites that stick to your head and control your every action. If you suspect a brain slug infestation is in the works, switch to a garlic shampoo. Futurama's Brain Slugs. Robot...In Love! In this, my very first Instructable, I will show you how to crochet your very own Instructable Robot and his Love-Bot!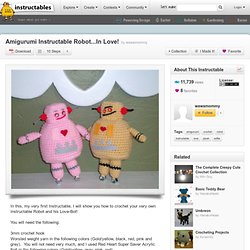 You will need the following: 3mm crochet hook Worsted weight yarn in the following colors (Gold/yellow, black, red, pink and grey).
StarWars
Free Pattern - Spaceship. "Fly me to the moon and let me play among the stars.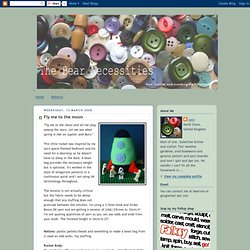 Let me see what spring is like on Jupiter and Mars. " This little rocket was inspired by my son's space themed bedroom and his need for a doorstop so he doesn't have to sleep in the dark. A bean bag provides the necessary weight but is optional. It's worked in the style of amigurumi patterns in a continuous spiral and I am using UK terminology throughout. The tension is not actually critical but the fabric needs to be dense enough that any stuffing does not protrude between the stitches. Another Free Robot Pattern. I decided to make a toy robot for Charlie, who I'll be seeing later this week.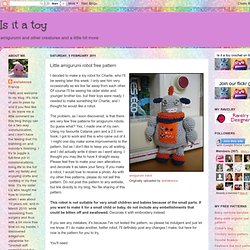 I only see him very occasionally as we live far away from each other. Of course I'll be seeing his older sister and younger brother too, but their toys were ready. I needed to make something for Charlie, and I thought he would like a robot. Robot Free Pattern.
---