IOS 5
Get flash to fully experience Pearltrees
It seems like every time a major software revision comes along, it's described as the "biggest ever." In the case of iOS 5, though, that might not be hyperbole—there's hardly a part of Apple's mobile operating system that isn't altered in some way by the latest update. Don't think that this is just change for change's sake, however.
Of all of the new bits and pieces of iOS 5 , one of the apps I'm using the most is Reminders. It's a simple yet effective app for iPhone, iPod touch, and iPad that is used to set up self-reminders and task lists that are synced through iCloud. Let's take a look at this latest feature of iOS and Mac OS. The icon for Reminders describes at a glance exactly what it does -- it looks like a list of tasks, each with a check mark indicating completion. Reminders works on the concept of lists, and you can create any number of them. The app automatically adds a list called "completed" that contains any task that you have finished but have not deleted.
With iOS 5, your Apple ID is now all that's needed to sync your settings, accounts, calendars, contacts, and purchased content. (Credit: Donald Bell/CNET) When the folks at Apple showed off iOS 4.2 for iPad last year, they kept hammering on the idea that the software update was like having a whole new iPad. They introduced multitasking, AirPrint, Folders, AirPlay, Game Center, and e-mail threading, but in all honesty, it didn't change the way I used the iPad in any significant way.
(Credit: Screenshot by Jason Cipriani) The time has finally come, and iOS 5 will be available to the general public October 12. During the last four months, we have been covering some of the key features of iOS 5 to ensure we were prepared to help you on the first day of iOS 5's release. Below you will find 15 tips and tricks to help you master iOS 5, and maybe even allow you to show off a bit to your friends. Learn the basics How to use the iPad's split keyboard on iOS 5 iOS 5 is set to bring a new split keyboard to iPad users, allowing for easier typing on the touch-screen device.
This week we've given iOS 5 the in-depth treatment and highlighted 10 of our favorite features — and we're still not done exploring everything the new iOS 5 has to offer. We've tracked down five features in iOS 5 that while small on the surface, pack a serious punch. We're calling these "hidden gems" because they take a little bit of effort to find. The fact that we're still finding new things in iOS 5 underscores how big of an upgrade Apple has really delivered. What is your favorite hidden gem in iOS 5? Let us know.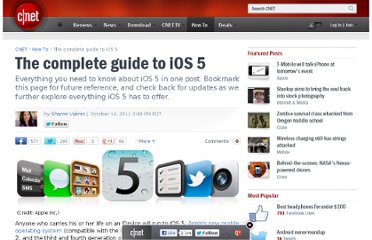 (Credit: Apple Inc.) Anyone who carries his or her life on an iDevice will run to iOS 5, Apple's new mobile operating system (compatible with the iPhone 4S , iPhone 4, iPhone 3GS, iPad, iPad 2, and the third and fourth generation of the iPod Touch) that makes day-to-day tasks easier to complete on the go. We're excited about it, too, so we dug our hands into iOS 5 and created dozens of tutorials to help you master the new apps (like iMessage and Reminders), customize the interface, control your privacy, and uncover some hidden features. Bookmark this page for future reference, and check back for updates as we further explore everything iOS 5 has to offer. App tutorials
One of the growing pains for iCloud users is the fact that 5GB just might not be enough space, and paying for more space isn't that appealing to most. Thankfully, Apple allows you to manage what information is backed up and stored on iCloud from your iOS device, giving you the capability to free up valuable space on your iCloud account. To manage iCloud storage on your iOS device: Go to Settings > iCloud > Storage & Backup > Manage Storage. You will be presented with the device(s) you are backing up to iCloud.
(Credit: Screenshot by Jason Cipriani) It's happened to the best of us--we go to the grocery store with a mental list, sure that we could never forget one of the only six items on it. Then we get back home, look in the bag, and realize we forgot the chocolate chips for the cookies we've been craving. With the release of iOS 5 getting closer by the day, iPhone, iPod Touch , and iPad users will soon be able to take advantage of the new Reminders application that is included in Apple's latest mobile OS.