Movies to Watch
In a Glass Cage (1987. Edit Storyline In Spain, the former Nazi doctor Klaus tries to commit suicide jumping off the roof of his manor.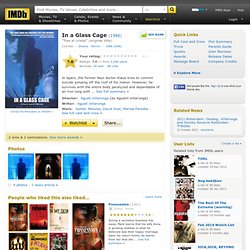 However, he survives with the entire body paralyzed and dependable of an iron lung with glass sides. His wife Griselda decides to hire a nurse since she does not bear the situation. Klaus asks Griselda to hire Angelo, a mysterious teenager that appears in their house. Aftermath (1994. Antichrist (2009. Funny Games (1997. The Last Circus (2010. A Serbian Film (2010. Edit Storyline In Serbia, the retired porn star Milos is married with his beloved wife Marija and they have a little son, Peter, that is their pride and joy.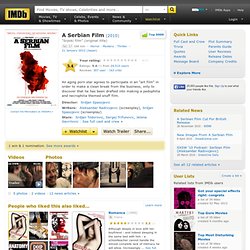 The family is facing financial difficulties, but out of the blue, Milos is contacted by the porn actress Lejla that offers him a job opportunity in an art film. Milos is introduced to the director Vukmir that offers a millionaire contract to Milos to act in a film. Heartless (2009.
---