Google
Get flash to fully experience Pearltrees
Monday, 09 January 2012 00:00 UK schools are starting to move to the cloud, and Google, making its BETT debut aims to help them
I often find myself in conversations with teachers and students about Internet search strategies.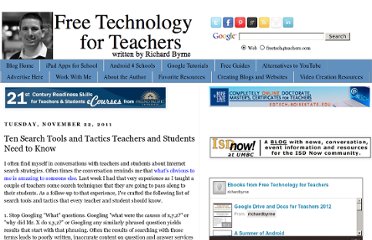 Google unveiled the latest version of its free Search app for the iPad on Monday, making searching on the Apple device faster and more intuitive — and, ironically, giving Android tablet users another reason to switch. Google's YouTube video on the app, above, highlights some of the key new features of the free app — including an easy way to recommend and share content with others on Google+, Siri-like voice search, and Google Instant — that is, seeing display results as soon as you begin to type, without the need of pressing the search button.
Love it!? Hate it!? Doesn't really matter what you think of the new Google Reader interface…..
This is part of Edudemic's Staying Safe Online series.
Agenda and Resources
When Google launched its new social network Google Plus this summer, the service was only available to a small number of users, but it seemed clear from the outset that the service had a lot of potential for education -- more granular privacy controls, real-time communication and collaboration via Hangouts, and so on. G+ has since opened to everyone -- provided, of course, that people sign up with their regular Gmail addresses and that they are over age 18.
Hello there! If you are new here, you might want to subscribe to the RSS feed for updates and/or follow me on Twitter .
Google. What a company! Google started as research project to improve the quality of search by two brilliant Stanford grad students and over the last decade and half has grown into a massive company that seems to touch so many aspects of our lives somehow.
A year and a half ago, we released completely new document, spreadsheet and drawing editors . Google Docs has been picking up speed ever since with more than 60 new features and millions of new users.