Edmodo
Project Based Learning with Edmodo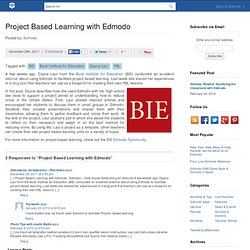 Tagged with: BIEBuck Institute for EducationDayna LaurPBL A few weeks ago, Dayna Laur from the Buck Institute for Education (BIE) conducted an excellent webinar about using Edmodo to facilitate project based learning. Last week she shared her experiences in a blog post that teachers can use as a blueprint for creating their own PBL lessons.
Most Popular Posts of the Year - #14, Edmodo The Total Classroom Solution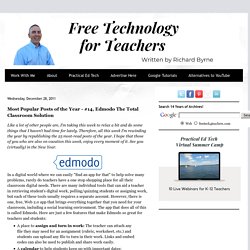 Like a lot of other people are, I'm taking this week to relax a bit and do some things that I haven't had time for lately. Therefore, all this week I'm rewinding the year by republishing the 25 most-read posts of the year. I hope that those of you who are also on vacation this week, enjoy every moment of it. See you (virtually) in the New Year.
Last week the Wall Street Journal had an article announcing that Edmodo had received a $15 million venture capital investment from the founder of LinkedIn and a former VP of Facebook. That article gave me the idea for this post of fifteen things teachers and students can do with Edmodo. For those not familiar with Edmodo, in a nutshell it is a microblogging system designed specifically for teachers and students. Using Edmodo teachers can create a microblogging network for their classes. Edmodo allows teachers to create a group specifically for their students and exclude those not invited to the group.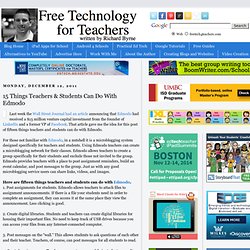 Simon Haughton's Blog: Edmodo
Last week my deputy head put a writing task on Edmodo for KS2 - within four days, 42 children had chosen, in their own free time at break or at home, to complete it!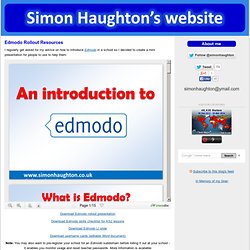 Teacher Rollout Resources | Help Center