Libraries Professional Activity
Colleagues
Core Library Conferences. Core Library Blogs. UK Core Library Journals. BAILER » Related Links. What are we doing and why in British and Irish library and information departments?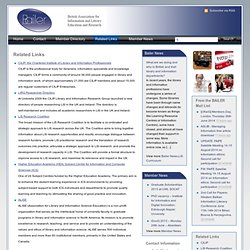 In recent years, the library and information professions have undergone a series of changes. Some libraries have been through name changes and rebrands (to become known as things like Learning Resource Centres or Information Centres), some have closed, and almost all have changed their support in some way. More information is available online now, so […]
CILIP Network of Expertise & Interests - Home. Libraries. Aberystwyth University. AU Department of Information Studies. iGSS - International Graduate Summer School. Cadair IR. E-LIS. E-prints in Library and Information Science. Welsh Books Council.
---