Creativity Quotes
50 great quotes on success. It's hump day and that means you might need an adrenaline shot of inspiration to make it through the rest of the week.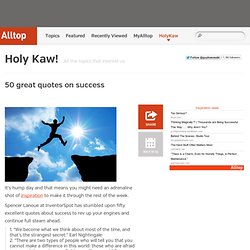 Spencer Lanoue at InventorSpot has stumbled upon fifty excellent quotes about success to rev up your engines and continue full steam ahead. 1. "We become what we think about most of the time, and that's the strangest secret." Earl Nightingale2. "There are two types of people who will tell you that you cannot make a difference in this world: those who are afraid to try and those who are afraid you will succeed." Creativity and Innovation Quotes | LeadingThoughts - LeadershipNow.com.
Creative Truths. Creative Truths Nice series called Creative Truths by Shirley-Ann Dick. 28th of September 2010.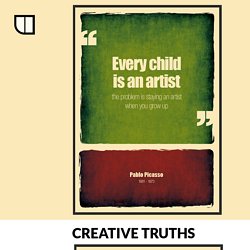 21 Awesome Quotes on Intuition. Thanks to Val Vadeboncoeur for finding most of these quotes.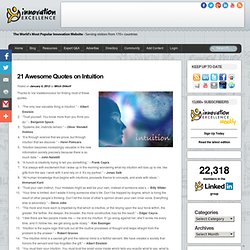 "The only real valuable thing is intuition." – Albert Einstein"Trust yourself. You know more than you think you do." – Benjamin Spock"Systems die; instincts remain." – Oliver Wendell Holmes"It is through science that we prove, but through intuition that we discover." – Henri Poincare"Intuition becomes increasingly valuable in the new information society precisely because there is so much data." – John Naisbitt"A hunch is creativity trying to tell you something." – Frank Capra "It is always with excitement that I wake up in the morning wondering what my intuition will toss up to me, like gifts from the sea. I work with it and rely on it. 12 Motivational Quotes to Get You Through The Day - Picture Quotes - StumbleUpon. Happiness is a direction, not a destination.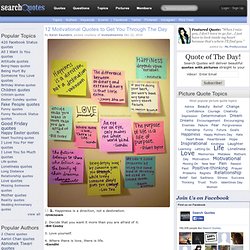 -Unknown 2. Decide that you want it more than you are afraid of it. -Bill Cosby 3. Quotes on creative thinking. « SKB. A good spectator also creates – Swiss Proverb Quotes on creative thinking.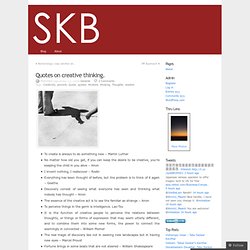 Published September 22, 2008 General 2 Comments Tags: Creativity, proverb, Quote, quotes, thinkers, thinking, Thoughts, wisdom. Creative quotations and quotes for brainstorming, lateral thinking and problem solving techniques. Thoughts On Life : Inspirational Words : Motivation Quotes.