Social media
One of the interesting side effects of the pervasiveness of technology today is that work in general is becoming so digital that it sometimes completely disappears from sight. By this I mean it's trapped within our e-mail systems, IT systems, Web applications, SaaS, cloud services, document management tools, and so on. Thus the hard work we put into creating knowledge often isn't as collaborative, sharable, or discoverable as it should be. This is one of the central aspects of social media that has made it so prevalent in recent years and is the reason most of the Web today is being peer produced in such a manner.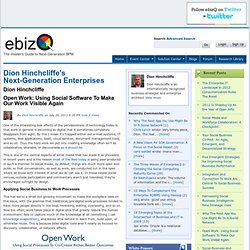 Open Work: Using Social Software To Make Our Work Visible Again - Dion Hinchcliffe's Next-Generation Enterprises
Craig Roth Managing Vice President: Communication, Collaboration, and Content 4 years at Gartner 25 years IT industry Craig Roth is a vice president and service director for Gartner Research, in Burton Group's Collaboration and Content Strategies service. Mr.
SharePoint: Make No Little Plans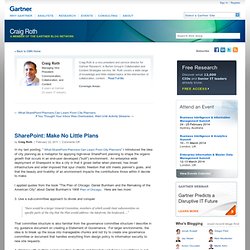 The Social Business Infographic 
trainingwreck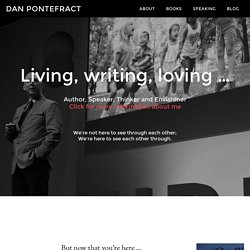 Hello. Thanks for visiting. My name is Dan Pontefract, author of FLAT ARMY: Creating a Connected and Engaged Organization. I often wonder why an organization, whether for profit, not-for-profit, academic or otherwise can't be the coolest place to work. Why can't an organization of any size become a mecca of collaboration; a culture that fosters innovation, creativity, teamwork and friendship.
It's an odd question, really, when you consider how many companies are shifting some of their advertising dollars to social media. Even when it makes good business sense from a sales perspective, sometimes leadership doesn't see it that way for employees. In fact, what other new business tactic can you think of that companies don't want employees to participate in?
Good Company – Social Media, Internal Communications and Leadership Best Practices | Creating a better workplace through internal communications, social media, and strong leadership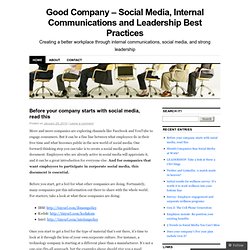 Vision for the Social Enterprise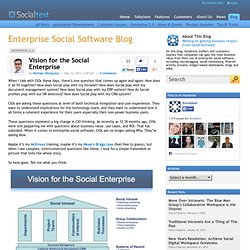 By Michael Idinopulos | May 12, 2011, 2:47 pm | 4 Comments When I talk with CIOs these days, there's one question that comes up again and again: How does it all fit together? How does Social play with my Intranet? How does Social play with my document management system? How does Social play with my ERP system? How do Social profiles play with our HR directory?
The Social Workplace ? Where collaboration and community mean productivity.
Improving Employee Engagement is not the product of one initiative. Organizations need a framework to achieve significant improvement in engagement. Sequencing and content of the initiative are critical, as is communication. There have been many traditional approaches to improving Employee Engagement, including Leadership Training, Company-wide 'Programs,' Learning & Development and other such initiatives. READ THE FULL POST The value of a measurable recognition strategy is far reaching for employers and by conquering common misconceptions, organizations can help elevate employee engagement and promote a more positive and productive workplace.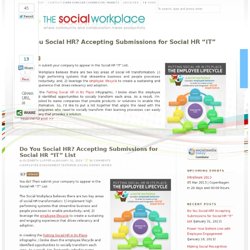 Making An Intranet More Social - Dion Hinchcliffe's Next-Generation Enterprises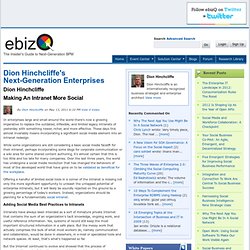 In enterprises large and small around the world there's now a growing imperative to replace the outdated, inflexible, and limited legacy intranets of yesterday with something newer, richer, and more effective. These days this almost invariably means incorporating a significant social media element into an intranet redesign. While some organizations are still considering a basic social media facelift for their intranet, perhaps incorporating some blogs for corporate communication or a wiki area for some shared content authoring, it's almost certain that this is too little and too late for many companies. Over the last three years, the world has undergone a social media revolution that has changed the behaviors of most of the developed world that have gone on to be validated as beneficial for the workplace.
Much discussed, much re-tweeted, and full of 24 carat, crystal-pure verity, here is the full list of the 100 Social Enterprise Truths. 1. Measuring social impact is about improving what you do, not just proving how well it works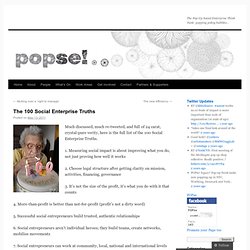 The 100 Social Enterprise Truths |
Social learning for collaborative work
The authors at Human Capital Lab say that social learning makes little sense and we should really be focused on collaborative learning: In its simplest form, collaborative learning is a model based on the idea that knowledge can be created through the interaction and collaboration of individuals. It is not driven by a specific tool, or learning plan, but is driven by the need for information and the accountability that those engaged have to one another.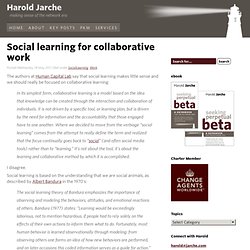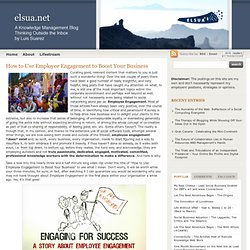 How to Use Employee Engagement to Boost Your Business
Curating good, relevant content that matters to you is just such a wonderful thing! Over the last couple of years there have been a good number of really insightful, and very helpful, blog posts that have caught my attention on what, to me, is still one of the most important topics within the corporate environment and perhaps well beyond as well, without not necessarily even being related to social networking alone per se: Employee Engagement. Most of those articles have always been very positive, over the course of time, in identifying how critical and paramount it surely is to help drive new business and to delight your clients to the extreme, but also to increase that sense of belonging, of unmeasurable loyalty, or everlasting generosity of going the extra mile without expecting anything in return, of driving the whole concept of co-creation as part of that co-sharing of responsibility, of feeling good, etc. etc. Some others haven't.