Tips
10 David Ogilvy Quotes that Could Revolutionize Your Blogging. Press Releases and SEO. How much do you know about press releases?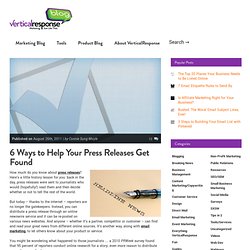 Here's a little history lesson for you: back in the day, press releases were sent to journalists who would (hopefully!) Read them and then decide whether or not to tell the rest of the world. But today – thanks to the internet – reporters are no longer the gatekeepers. Instead, you can distribute a press release through an online newswire service and it can be re-posted on various news websites.
And anyone – whether it's a partner, competitor or customer – can find and read your great news from different online sources. Anatomy of a Landing Page. DIY Web Site Design and Promotion. 21 Twitter Tips from Fast Company. Salesforce Debuts The New Radian6-Powered Social Marketing And Monitoring...
Radian6, which was acquired by Salesforce for $326 million earlier this year, has offered some of the world's largest brands a web-based social media monitoring platform.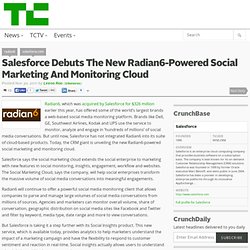 Brands like Dell, GE, Southwest Airlines, Kodak and UPS use the service to monitor, analyze and engage in 'hundreds of millions' of social media conversations. But until now, Salesforce has not integrated Radian6 into its suite of cloud-based products. Today, the CRM giant is unveiling the new Radian6-powered social marketing and monitoring cloud. Powerful Marketing Words. In Go Mobile, the book I've written with Jeanne Hopkins from HubSpot, we review a list of the 14 most powerful words in marketing so that readers can use them in their mobile marketing campaigns.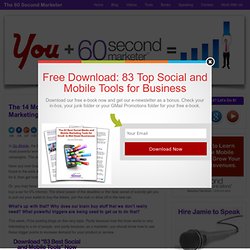 This post gives you a sneak peak at the list that's included in the book. Enjoy. Have you ever bought a product that you didn't really need? You know the kind — they're often found in the aisle displays at Lowe's, WalMart or Barnes & Noble. You grab it off the shelf, pay for it, then get home and say, "Why did I just buy something I didn't really need?" Mike Maples: "You Have to Be Willing to Throw it all away" [Video] If you are a entrepreneur– especially a first time entrepreneur or an entrepreneur outside of Silicon Valley– you need to stop what you are doing and watch this video.
Yes, it is 45 minutes long. But it's worth it. Last night at a Founder Institute event , super angel Mike Maples gave a talk about what he calls "pivots" and "thunder lizards." Thunder lizards are startups born from atomic eggs that "emerge with attitude" want to disrupt and chew up their competition– both new world and old. They are big, chaotic, relentless and when successful, become huge companies. How to Train Yourself to be More Successful. How can you use the latest discoveries in brain science to improve your life?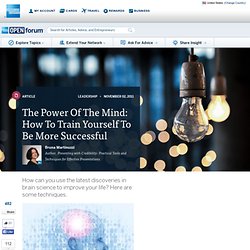 Here are some techniques. November 02, 2011. How to Use Facebook EDGERANK. Facebook can be a great place to market your small business; many of you have set up fan pages and are actively building a Facebook audience.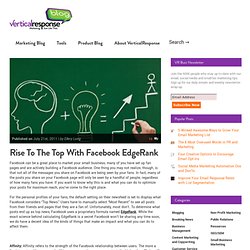 One thing you may not realize, though, is that not all of the messages you share on Facebook are being seen by your fans. In fact, many of the posts you share on your Facebook page will only be seen by a handful of people, regardless of how many fans you have. If you want to know why this is and what you can do to optimize your posts for maximum reach, you've come to the right place. For the personal profiles of your fans, the default setting on their newsfeed is set to display what Facebook considers "Top News."
How the Eye Sees a Web Page. Do you know what is the first thing that your eye is drawn to on a website?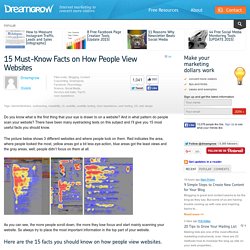 And in what pattern do people scan your website? There have been many eyetracking tests on this subject and I'll give you 15 most useful facts you should know. The picture below shows 3 different websites and where people look on them. Red indicates the area, where people looked the most, yellow areas got a bit less eye-action, blue areas got the least views and the gray areas, well, people didn't focus on them at all. As you can see, the more people scroll down, the more they lose focus and start mainly scanning your website.
41 Questions Business Leaders Should Ask. Change is the only constant in the world, there's no doubt about it.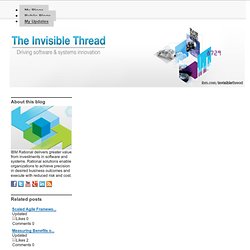 Today more than ever, businesses must face – and effectively manage – rising change and complexity. Uncertainty is everywhere we look. 30 Social Media Monitoring Tools. If you work in online marketing or social media, you know how difficult it can be to try and be everywhere at once.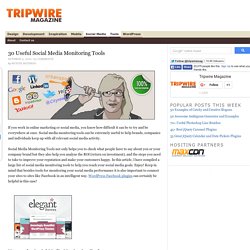 Social media monitoring tools can be extremely useful to help brands, companies and individuals keep up with all relevant social media activity. Social Media Monitoring Tools not only helps you to check what people have to say about you or your company brand but they also help you analyze the ROI (return on investment), and the steps you need to take to improve your reputation and make your customers happy. In this article, I have compiled a large list of social media monitoring tools to help you reach your social media goals. Enjoy! Keep in mind that besides tools for monitoring your social media performance it is also important to connect your sites to sites like Facebook in an intelligent way.
---