StatusNet
In a previous post I configured my development environment so that I could start work on my Statusnet plugin. Well, a little later that anticipated, I've managed to get enough time together to get a working plugin - although it's not perfect by any means. Initially I had wanted to use the PingFM API to send notices from our internal statusnet instance through PingFM to configured services such as Twitter, LinkedIn and Facebook. However, to get an API key you need to apply to PingFM directly and this is a lengthy process (just look at their Google Groups page and you'll see people chasing up requests which are weeks/months old). While my approval was pending I opted to develop the plugin to take advantage of PingFMs 'Post By EMail' functionality.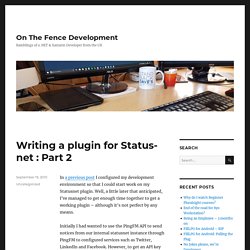 Writing a plugin for Statusnet : Part 2 @ On The Fence Development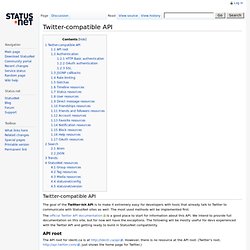 Twitter-compatible API The goal of the Twitter-ish API is to make it extremely easy for developers with tools that already talk to Twitter to communicate with StatusNet sites as well. The most used methods will be implemented first. The official Twitter API documentation is a good place to start for information about this API.
Twitter-compatible API
API discovery
[ edit ] Where do I start? So you're writing a client application using StatusNet's API ; good for you! Unfortunately the down side of a federated system like ours is that you might need to work with many different StatusNet sites on different domains, with different configuration... maybe even multiple sites used by the same user! So you can't just hardcode a single API endpoint URL into your software like you can for certain monolithic services... The good news is that StatusNet's API wants to help you find it... but you need to know what you're looking for, and when's the right time to go looking for it. [ edit ] Scenarios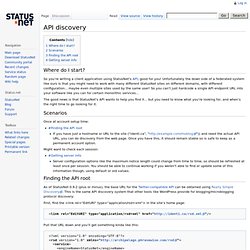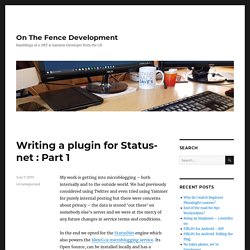 My work is getting into microblogging - both internally and to the outside world. We had previously considered using Twitter and even tried using Yammer for purely internal posting but there were concerns about privacy - the data is stored 'out there' on somebody else's server and we were at the mercy of any future changes in service terms and conditions. In the end we opted for the StatusNet engine which also powers the Identi.ca microblogging service . Its Open Source, can be installed locally and has a Twitter-like API which meant that we could integrate it with our internal systems like our CruiseControl.NET build server. But that's not the end of it - StatusNet is extendible as well.
Writing a plugin for Statusnet : Part 1 @ On The Fence Development
Friendika Plugins - StatusNet Plugin - collection of little crawling things
With this addon to Friendika you can give your user the possibility to post their messages to any StatusNet instance like identi.ca for example. The messages will be strapped their rich context and shortened to to the character limit of the StatusNet instance in question if necessary. If shortening of the message was performed a link will be added to the notice pointing to the original message on your server. Please not that for interaction with StatusNet accounts you do not necessarily need this plugin. Friendika supports OStatus which means, that you can follow any StatusNet /identi.ca account and they can follow your Friendika account.