Coulage
1 - Ceramic Molds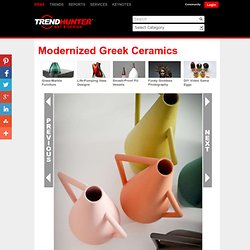 The Kora vase is a bold and modern accessory piece designed by Milan based firm Studio Pepe. Exploring a study of color graduations, this chromatic collection of ceramics catches one's eye thanks to its traditional Greek inspiration. From its vivid color palette to its simplistic design, this dynamic home accessory collection features a set of 10 solid and 2 graphically printed pieces that are unglazed in their finish.
Modernized Greek Ceramics - The Kora Vase by Studio Pepe Remixes Traditional Art Ideals (GALLERY) - (Navigation privée)
Creature Outline Crockery - Bernardaud Breakfast Bowls Reveal Forms When Filled to the Brim (GALLERY) - (Navigation privée)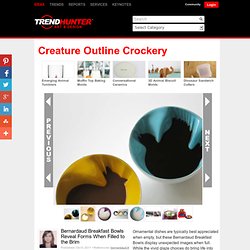 Ornamental dishes are typically best appreciated when empty, but these Bernardaud Breakfast Bowls display unexpected images when full. While the vivid glaze choices do bring life into each piece of the collection, it's in the sculpting that this crockery is given its power to transform. The abstract and twisting inner skin of the ceramic vessels is quite beautiful on its own, but if you pour an opaque liquid within you'll begin to see new shapes emerging. One might first become aware of the magnificent textures framed beneath the bowl's rim, yet the magic is in the startling silhouette that a bit of milk or soup instills. Artist Geraldine De Beco makes molds from which to cast each piece, producing endearing images of cats, birds, rabbits and more that disappear as their contents are consumed.
The creation of the Ballare cup collection is one designer's attempt to bring a little drama to the dinner table. Few items in the home express the intrigue associated with an animated quality, which is why Yury Dovganyuk strove to capture motion in this graceful selection of teacups. The very name of the drinking vessel translates to the Italian word for "dance."
Manipulated Drinking Mugs - The Ballare Cup Collection Brings Dynamic Grace to the Table (GALLERY) - (Navigation privée)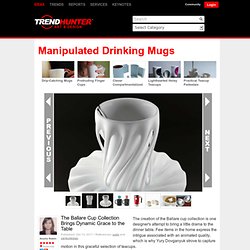 Cours percussion Cours particuliers Paris
Résultats Google Recherche d'images correspondant à http://www.yankodesign.com/images/design_news/2010/09/16/korea_london.jpg - (Navigation privée)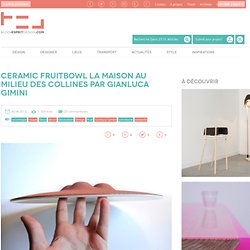 Ceramic fruitbowl la maison au milieu des collines par Gianluca Gimini | Blog Esprit-Design : Blog Design & Project & Inspiration - (Navigation privée)
Ceramic fruitbowl la maison au milieu des collines par Gianluca Gimini http://www.blog-espritdesign.com/artiste-designer/concept/ceramic-fruitbowl-la-maison-au-milieu-des-collines-par-gianluca-gimini-16606 Gianluca Gimini, designer italien passé par les Etats-Unis et la Chine nous présente Ceramic fruitbowl, une coupe à fruits tout en délicatesse… « This is a self initiated, self branded, self promoted » à l'heure où il semble de plus en plus compliqué pour les designers de développer leurs idées, Gianluca Gimini a pu aller du dessin à la création sans aucune aide… Un souvenir, une maison, des collines, un savoir-faire en céramique et le tour est joué. Ce plateau, ou coupe à fruit possède deux côtés bien différents, l'un blanc en finition émaille, le second rugueux, chaleureux, couleur terre battue permettant de placer idéalement 4 fruits à déguster.
If you're looking to spice up your morning coffee routine with something truly usual and slightly unsettling, then these Teeth Tea Cups will certainly do the trick. While several modern day mug designs feature comical quotes or recognizable pop culture references, this quirky design rather chose to focus on one distinct part of the human anatomy: teeth. These tea cups are made of ceramic, and feature the visually striking teeth design around the top rim of the cup. Therefore, as you go to take a sip of your hot coffee or tea, you'll instantly feel the ridges of the intricately outlined teeth structure on your lips. While not for the easily squeamish, these teeth-inspired mugs are more for those who enjoy weird and wacky items that most likely no one else will have.
Terrifying Teeth-Shaped Mugs - These Teeth Tea Cups are a Bizarre Take on Traditional Designs (GALLERY) - (Navigation privée)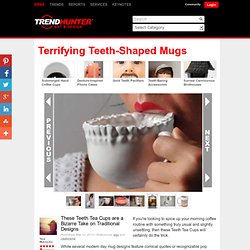 Without a saucer, you might be inclined to leave your teabag in your boiled water a little longer than you'd like. Ibrahim Guvendikler's Teacup is a quick and convenient solution to removing the loose leaf pouch from your beverage, ensuring that the brew does not become too strong. His solution was to integrate a supplementary compartment into the design of the typical mug so that you can store the bag within it.
Clever Compartmentalized Mugs - Ibrahim Guvendikler's Teacup Provides a Place to Discard Your Teabag (GALLERY) - (Navigation privée)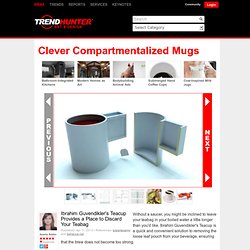 Résultats de recherche pour porcelain
Please read the full listing. By clicking Confirm bid you commit to buy this item from the seller if you are the winning bidder. You will enter a binding contract. Place bid Review and confirm your bid
Ceramic Slip Mould / Mold Patterned Fruit Bowl 12.5"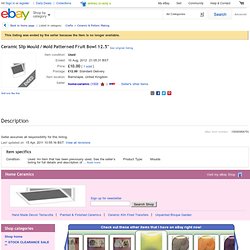 Passionceramique.com
Israeli designer Rachel Boxnboim has cast a ceramic tea service inside fabric moulds. Called Alice, the pieces retain the texture and seams of the fabric from which they were formed. Boxnboim pours the liquid clay into stitched moulds and gradually syringes it out again, leaving a thick layer clinging to the inside of the fabric. The cloth burns away when fired, leaving the delicate ceramic vessels behind.
Alice by Rachel Boxnboim