Self-Improvement
Email When we were young life was easier, right? I know sometimes it seems that way. But the truth is life still is easy.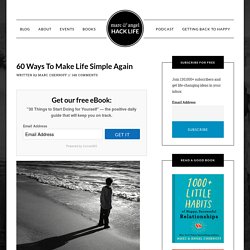 Our goal is simply to help you live more fully and enjoy a healthier, happier life. AT HABITFORGE we are on a mission... to change the world one habit at a time. By helping you at first to consciously make a better choice each and every day until eventually the "better choice" is an automatic response. As we continue to develop HabitForge, we will be digging further into the nuts and bolts and nuances behind habit formation... converting the "what and how" that world-renowned scientists have revealed during their past 20 years of "positive psychology research" into simple, practical HabitForge features that will help you get there faster than ever. HabitForge is supported by Early To Rise, whose aim is to help you become more effective in work and life, enjoy more choices and freedom and reach a better lifestyle overall. To learn more about Early To Rise, visit our website.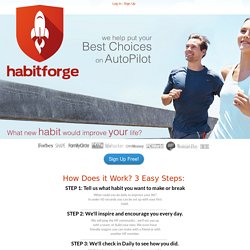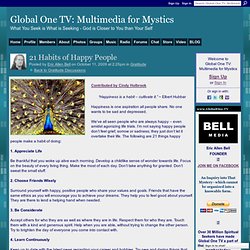 Contributed by Cindy Holbrook "Happiness is a habit – cultivate it." ~ Elbert Hubbar Happiness is one aspiration all people share. No one wants to be sad and depressed. We've all seen people who are always happy – even amidst agonizing life trials.
21 Habits of Happy People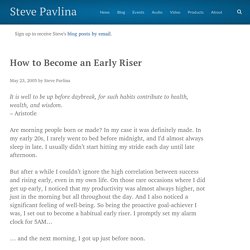 It is well to be up before daybreak, for such habits contribute to health, wealth, and wisdom. - Aristotle Are morning people born or made? In my case it was definitely made.
We've all had terrible, horrible, no good, very bad days. A bad work evaluation, a disappointing grade, a potential crush who turns out to be interested in someone else, a fight with your mother, a worrisome report from a doctor, a broken resolution…lousy days take many forms. Here are some strategies I use for coping with a lousy day: