Social Media
Get flash to fully experience Pearltrees
Remember that crazy dotcom bubble in the late 1990s and the huge bust that followed? It looks like we're about to sit through the same movie all over again. That's what Fred Wilson, a well-known venture capitalist, has been saying lately. Wilson, who runs Union Square Ventures, a New York–based VC firm, says he sees "storm clouds" on the horizon, and he worries that we might be headed toward another disaster.
And so at last, after passing through Email and Instant Messaging and Texting, we arrive in the land of Twitter. The birds are singing in the trees – they look like that robin at the end of Blue Velvet – and the air itself is so clean you can see yourself in it. Twitter is the telegraph system of Web 2.0. Like Morse's machine, it limits messages to very brief strings of text. But whereas the telegraph imposed its limit through the market's will – priced by the word, telegraph messages were too expensive to waste – Twitter imposes its limit through the iron law of code.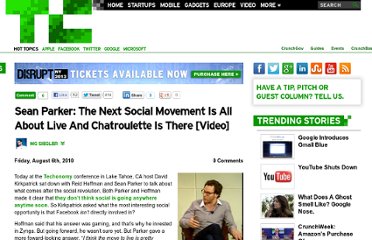 Today at the Techonomy conference in Lake Tahoe, CA host David Kirkpatrick sat down with Reid Hoffman and Sean Parker to talk about what comes after the social revolution. Both Parker and Hoffman made it clear that they don't think social is going anywhere anytime soon . So Kirkpatrick asked what the most interesting social opportunity is that Facebook isn't directly involved in? Hoffman said that his answer was gaming, and that's why he invested in Zynga. But going forward, he wasn't sure yet.