Social Media Tools
Home | BeyondCredentials. 5 Useful Tools to Track Twitter Unfollowers. It can be hard not to take it personally, but being unfollowed on Twitter is as much a part of the microblogging service as direct messages and trending topics.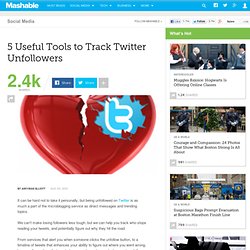 We can't make losing followers less tough, but we can help you track who stops reading your tweets, and potentially figure out why they hit the road. From services that alert you when someone clicks the unfollow button, to a timeline of tweets that enhances your ability to figure out where you went wrong, here are five options that can help you analyze when and why people unfollow you on Twitter. Let us know which tools you are using to track Twitter unfollowers in the comments below. 1. 9 Tips to build your reputation on Twitter like Guy Kawasaki. I respect and love this guy for his sheer intellect and skills.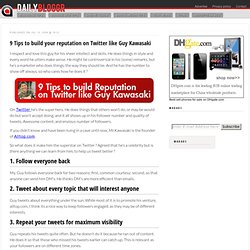 He does things in style and every word he utters make sense. He might be controversial in his (some) remarks, but he's a marketer who does things, the way they should be. Instapaper: Save interesting web pages for reading later. Read It Later: Save Your One Read Wonders. 10 Awesome Ways to Integrate Twitter With Your Website. Web developers with social media savvy are in hot demand.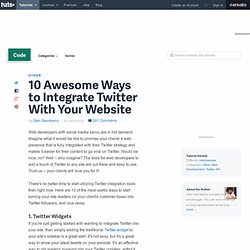 Imagine what it would be like to promise your clients a web presence that is fully integrated with their Twitter strategy and makes it easier for their content to go viral on Twitter. Would be nice, no? Real Blogs Don't Buy Ads On Google. Blogs, even big blogs, are supposed to be a little different than old media sites.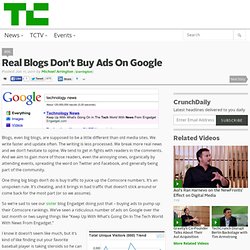 We write faster and update often. The writing is less processed. We break more real news and we don't hesitate to opine. Curation Tools. Call SEO Expert Steve Wiideman, Search Engine Optimization Expert. Learn How SEO Experts Like Steve Wiideman Get Ranking An SEO Expert is charged with understanding the various algorithms of the search engines and to design and or modify web pages based on the ever-changing standards of Google, Yahoo, Bing, as well as many other major search engines.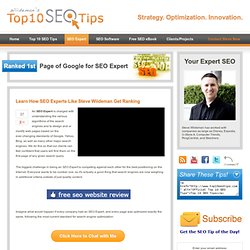 We do this so that our clients can feel confident that users will find them on the first page of any given search query. The biggest challenge in being an SEO Expert is competing against each other for the best positioning on the Internet. Audience Measurement, Lookalike Modeling, Audience Buying. The Standard for Online and Internet Influence. 3 iPad Apps that Reinvent News Reading. As news consumption shifts to the personalized social news stream, the platforms we use to consume the news are also changing.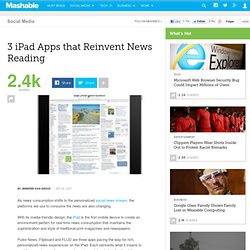 With its media-friendly design, the iPad is the first mobile device to create an environment perfect for real-time news consumption that maintains the sophistication and style of traditional print magazines and newspapers. Pulse News, Flipboard and FLUD are three apps paving the way for rich, personalized news experiences on the iPad. Each reinvents what it means to read the news by creating a more dynamic, social and visually stimulating way to consume information. Flipboard and Pulse News are particularly interesting because they both leave it to the user to define the term "news" on their own.
They also compel the reader to include their social network friends in the process. SWIX - Analytics for Social Media. BAM! Stribe Community Network - Instant social network for website to boost traffic. Vator.tv - Voice of the Entrepreneur. Seesmic.
---