Hack your Mac
Get flash to fully experience Pearltrees
When I log into the network at my job my Mac's hostname always turns to: larryx.na.corp.ipgnetwork.com I have my local hostname set to:
Written by Topher Kessler With UNIX having many tasks running simultaneously, through the years developers have incorporated several command-line tools that allow for live process management. These include "top", "kill", "ps", "df", and "vm_stats", and are available in the BSD subsystem in OS X via the command line. Since these tools require knowledge of the Terminal (which I admit is one of the funnest aspect of OS X), Apple has compiled the function of these and similar tools into "Activity Monitor" to make process management more user-friendly. When you launch Activity Monitor (available by default in the "Utilities" folder), you can view the main window by pressing "command-1" or by selecting "Activity Monitor" from the "Window" menu. There are other windows for viewing immediate CPU usage and CPU usage history, but those are relatively self-explanatory so I will only briefly touch on them later.
This article lists firmware updates that were released for Intel-based Macs. They update the firmware that originally shipped from the factory. If your computer does not appear on this list, an update from the factory firmware is not necessary. Some firmware updates for Intel-based Macs may not be displayed automatically using Software Update .
We've all been there: you're starting up your computer at night, or in class, and you cringe in embarrassment as your computer's startup sound reverberates loudly through the room. Here's how to prevent that from ever happening again. Silence or Change the Startup Sound in Windows Luckily, Windows gives you a number of easy options for tweaking your system's startup sound. To tweak it: Click on the Start menu and type "personalization" into the search box.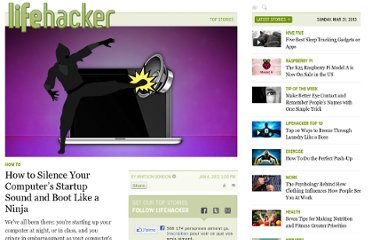 Update: This article is very old. Most of the Terminal Commands still work, but consider checking out our top Terminal commands for Leopard and Snow Leopard . Our Terminal Tips category also has loads of other ways help you get the most out of your Mac. There are a huge amount of hidden settings for Mac OS X and its applications that aren't accessible from preferences dialog boxes or the System Preferences.
How to set up a login hook Mac OS X 10.3, 10.4, or later Note that with Mac OS X 10.3.x and 10.4.2 or later, you can use the alternative method at the bottom of this document instead, if you wish. For Mac OS X 10.4 and 10.4.1, you should always use the following steps: Open Terminal (Applications/Utilities). In the Terminal window, type: sudo defaults write com.apple.loginwindow LoginHook /path/to/script (where /path/to/script is the full path to the script that you want to execute when a user logs in—it doesn't have to be in the user's Home directory).